Steven Stucky's Symphony has its New York premiere.
by
Paul J. Pelkonen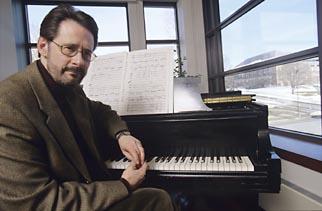 The composer Steven Stucky. His new Symphony had its New York premiere last night. 
Photo by Nicola Kountopes© 2005 Cornell University/University Photography.
Yesterday, the New York Philharmonic announced a two-year plan, (starting in 2017) to renovate Avery Fisher Hall, rebuilding the venue's auditorium while leaving the façade intact. That news (see, I got it in!) threatened to overshadow the fact that last night marked the first New York performance of Steven Stucky's
Symphony
, a work co-commissioned by the New York and Los Angeles Philharmonics.
Although it bears no number, this is technically Mr. Stucky's fifth--with the earlier works written in his twenties and currently withdrawn from publication. He requires a large orchestra to produce conventional, tonal sounds.
Symphony
is twenty minutes, consisting of four continuous movements. The sections have cool English titles instead of traditional movement names.
Introduction and
Hymn
featured impressive playing from the Philharmonic wind soloists, as their single melodic lines coalesced to form paragraphs of musical thought, answered by soft, solemn brass chords from the horns and trombones. Alan Gilbert let the theme develop, his extravagent gestures creating an arch of sound that would do a late Romantic proud.
Then came the
Outcry
, a falling, two-note motif that developed into a shriek of terror, a crisis for the development of the central musical idea. That was swiftly followed by
Flight
, a shimmering magic carpet ride with elaborate wind writing and melodic support from the piano and celesta.
The last section,
Hymn and Reconciliation 
wrapped up all the previous musical ideas (as a proper symphony usually does) into a tidy musical package with those brass chords, now resounded on and agreed with by the entire orchestra. The value of this new work is its beauty and yes, its proud conservatism. Hopefully,
Symphony
can serve as an ambassador of modern music, showing audiences that they do not need to be terrified of works written in this century.
The rest of the program focused on pieces written in 1940. Samuel Barber's
Violin Concerto
is known for the virtuosity of its solo writing and orchestration.  Gil Shaham made the three movements look easy, with a rich, singing tone that encompassed the high and low ends of his instrument. The soloist was enthusiastically accompanied by Mr. Gilbert and the orchestra, who seemed to relish the complexity of Barber's rhythms, particularly in the pell-mell finale.
Rachmaninoff's
Symphonic Dances
are not a proper symphony: but three movements that could function as sections of an invisible ballet. The Philharmonic provided these unseen dancers with rich, dark tone. They reveled in the thick orchestral textures and brief opportunties for display, starting with the first Dance's multiple meters and complex step.
The second was a slow waltz with a mournful monologue for that odd orchestral instrument, the saxophone. The final Dies Irae featured Rachmaninoff quoting himself--specifically the
Vespers
and the
First Symphony
, ending his compositional career with an evocation of Russian church music.