The New York Philharmonic drinks our milkshake.
by
Paul J. Pelkonen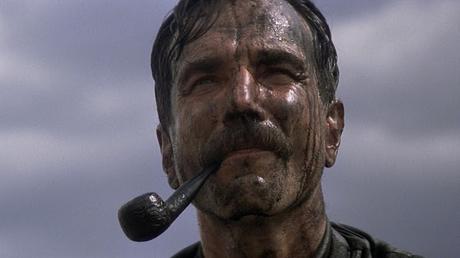 Pipe line: Daniel Day Lewis in There Will be Blood.
Image © 2008 Ghoulardi Film Company, Paramount and Miramax.
Ten years ago, Paul Thomas Anderson's
There Will Be Blood
rumbled, whistled and roared into movie theaters, anchored by a heaven-storming performance by Best Actor winner Daniel Day-Lewis and the American sense of guilt and horror that this nation's relentless march of progress has left in its very wide wake. On Wednesday night, the New York Philharmonic opened its annual
Art of the Score
Festival with the orchestra's first performance of the film's complete score, a polyglot creation anchored around the music of composer Jonny Greenwood. Conductor Hugh Brunt made his podium debut.
Mr. Greenwood, who rose to fame as one of the guitarists and songwriters of the seminal English band Radiohead, combines original materlial with works from his own back catalog of film compositions. Into this heady brew he adds works by Arvo Pärt and Johannes Brahms. This conglomerate approach to film accompaniment has something in common with the score for
2001: A Space Odyssey
, which was assembled from Romantic and modern concert works by that film's director, Stanley Kubrick. (It is not a coincidence that
2001
is the other movie featured on this year's festival slate.)
If you don't know this film (and Wednesday's audience was a mix of the initiated and the curious) it is loosely based on
Oil!
, a novel by muckraking journalist Upton Sinclair. It traces the rise of one Daniel Plainview (Mr. Day-Lewis) a hardscrabble miner. Looking for silver, he  finds his future when he strikes oil in the (fictional) town of Little Boston, California. Mr. Anderson tracks the wildcatter's rise, starting with Mr. Plainview laboring with a pickaxe deep in the bowels of the earth. From there, the character rises to prominence, only to follow a downward spiral into isolation, drink and finally, murder.
Paralelling Mr. Plainview's story is that of evangelical preacher Eli Sunday (Paul Dano.) He builds the foundation of his Church of the Third Revelation by piggy-backing on Mr. Plainview's efforts. (Daniel's discovery of oil in Little Boston was thanks to Sunday's twin brother Paul, also played by Mr. Dano in a brief early scene.) The two end up at loggerheads, with Mr. Day-Lewis' keen, cockeyed smirk indicating that he knows that the young preacher is indeed a false prophet. (This was the first time that I saw
There Will Be Blood
with a live audience, and the laughter at Mr. Dano's hypocrisy and Mr. Plainview's cynical skewering of faith-healing humbuggery was music to the ears.)
The third thread is Mr. Plainview's tormented relationship with H.W., an orphan who becomes his adopted son and the "sweet face" of his land-grabbing business. Played by the young Dillon Freasier (and later as an adult by the actor Russell Harvard), H.W. must overcome deafness (brought on by being too close to a rig explosion), his own father's inability to tolerate his disability, and finally, the blind rage of Mr. Day-Lewis at full bore. This performance, and those by supporting actors Kevin J. O'Connor and Ciarin Hinds leap to life on the Philharmonic screen, and one is so riveted by the intensity of the drama that one forgets that the orchestra isn't always playing.
Now, the music. The score starts simply, with glissando chords that swell and rise to atonal climaxes. Most of the music is for small string orchestra, supplanted by piano chords and the eerie wail of an
ondes Martenot
. There are leitmotivs, the rising theme that accompanies each of Daniel's moments of discovery and the taut, panicked rhythm that Mr. Greenwood cannibalizes from his own pieces:
Popcorn Superhet Receiver
and
Smear
, a piece for
ondes
. (This borrowing is why this soundtrack was not nominated for Best Score.) Most jarring of all is the use of the final movement of the Brahms
Violin Concerto
, played here by the full Philharmonic orchestra with Michelle Kim whizzing through the solo part.
The most famous sequence in
There Will Be Blood
is its soul and skull-crushing finale: a last battle between the wheedling preacher and Daniel, who has now descended fully into a luxuriant hell of his own making. The battleground: a bowling alley somewhere in the nouveau-riche oilman's enormous mansion, empty save for two scared servants. The cause: a final plea for money from the good Reverend Sunday, who is facing economic collapes and wants to sell his last parcel of land to Mr. Plainview to drill. The denouement comes when the drunk Mr. Plainview finally gives into his animal nature and murders Sunday. Collapsing on the hard, planed floor next to the body he declares "Well. I'm finished!" The credits roll with one last performance of the Brahms, salve for the audience's wounds that was played with gusto by Ms. Kim and the Philharmonic.