Nicholas Phan Sings Britten at Le Poisson Rouge. 
by
Paul J. Pelkonen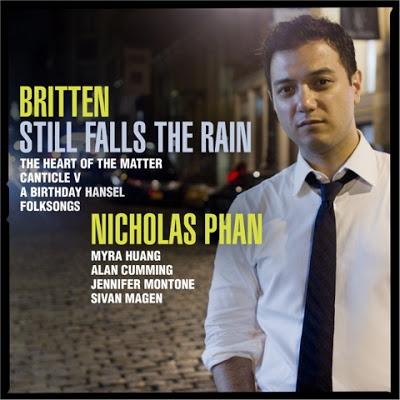 Nicholas Phan's new release Still Falls the Rain.
Image © 2012 AVIE Records.
The Connecticut-born singer Nicholas Phan has come forth as one of the most promising young tenors singing today. On a rain-soaked Monday evening, the singer performed at Le Poisson Rouge, offering songs by Benjamin Britten in a concert that was also streamed live on the website
Concert Window.
Appropriately enough, this concert was in conjunction with the launch of his second disc,
Still Falls the Rain
, a haunting collecton of art songs and folk songs by the 20th century British composer. This is Mr. Phan's second set of songs by the composer. (The first, Winter Words, focused on Britten's relationship with his muse and life partner, tenor Peter Pears.)
Britten wrote (or in the case of the folk-tunes, arranged) these songs for Pears' remarkable instrument. Mr. Phan brings a different sound quality to the works, a youthful, clear tenor and a pliant, powerful tone that can hit difficult high notes and swoop down into the lower range without a break between registers. That flexibility was on full display as Mr. Phan tackled this challenging material, accompanied by harp, horn and piano.
The evening's selections transited between playful and grim folk-song settings, juxtaposing the gallows humor of songs like "Sir William" and the comic "The False Knight Upon the Road." Mr. Phan delved into Britten's
Canticle V
, a complex setting of T.S. Eliot's
The Death of St. Narcissus
. Introducting this song playfully as being a description of the pleasures of self-love, Mr. Phan still succeeded in conveying the poet's harrowing images of shadows, blood and shame.
The most intense part of the program was the titular
Still Falls the Rain
set by the composer as
Canticle III.
Based on the poetry of Edith Sitwell, the song details the impact of the German
blitzkrieg
on Britain in the Second World War, as whole towns were bombed out of existence. Mr. Phan conveyed the sorrow and pain of the war over the long arcs of this song, which was given an unrelenting melodic drive by accompanist Myra Huang.
The concert ended with five folk songs featuring harpist Sivan Magen, virtuoso works for that instrument that also allowed the singer to display versatility and the range of his instrument. The little set opened with the sardonic "Lord! Lord! Lord! I Married Me a Wife", before moving into the pastoral with "One Midsummer Morning" and "The Sheep's in the Meadow." The singer also switched to Welsh for "Dafydd y Garegg Wenn." The  brief encore was a soaring performance of "Greensleeves," rendering the little underground cabaret quiet with contemplation of that famous melody.