Gustavo Dudamel conducts the Los Angeles Philharmonic.
by
Paul J. Pelkonen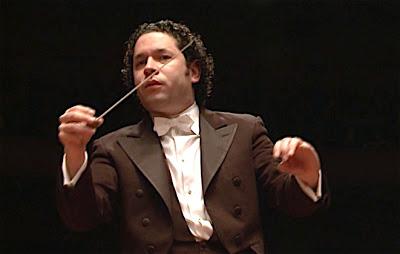 The man. The myth. The tux. Gustavo Dudamel.
Photo © 2016 Los Angeles Philharmonic.
The Los Angeles Philharmonic is riding high right now, with Gustavo Dudamel at their helm and a glittering Frank Gehry-designed palace, the Walt Disney Concert Hall to play in. On Monday evening Mr. Dudamel and the orchestra made the second of two appearances this season at David Geffen Hall. This Lincoln Center venue was touted as state-of-the-art at its opening in 1964 (as Philharmonic Hall)  has been plagued with acoustic problems over its 52-year history. In fact, the venue formerly known as Avery Fisher Hall is slated  for a multi-million-dollar "gut renovation "by the end of this decade.
The concert opened with the New York premiere of
Soundings
by lauded film composer John Williams. This short piece was written for the opening of Disney Hall, inspired by that venue's acoustics and Mr. Gehry's unique architectural design. Its five movements are meant to explore the sound of Disney Hall with titles like "The Hall Awakens" and "The Hall Resounds." And yet, this work sounded awkward in the dryish, 20th century acoustic of Geffen Hall: as if it were mere leftover shavings from Mr. Williams' massive soundtrack scores.
Far more interesting was Alberto Ginastera's 1961
Piano Concerto No. 1
, a seminal 20th century work that deserves more airing. Here, the soloist was Sergio Tiempo, a fleet-fingered young man who made his concert debut in 1986 at the age of 14. Mr. Dudamel offered subtle support in the pounding first movement, effectively a massive statement of a 12-tone theme that launches a lengthy exploration of that theme and a thorough exploration of its possibilities in a set of complex variations. This was thrilling stuff, and one could not help but wonder why this concerto has been relegated to the status of mere curiosity.
The team of Mr. Dudamel and Mr. Tiempo made a convincing case with the next three movements, a hallucinatory
Scherzo
that drew inspiration from strange, dark passages that would have made Gustav Mahler smile. It was followed a shifting, impressionistic
Adagissimo
that teased and tormented the listener, an exploration of the twelve-tone idea that, while not exactly romantic in its nature still made for most engaging listening. True, one wanted more dynamic control of the orchestra in certain passages from Mr. Dudamel, but Mr. Tiempo's piano was still audible.
These two slow central movements braced the listener for the final
Toccata
, a furious race with its goal being tonal resolution. This last movement had particular significance in the shadow of the death of rock keyboardist Keith Emerson last Friday. In the 1970s, Mr. Emerson's group Emerson Lake and Palmer recorded this movement (as simply
Toccata
)  and made this violent movement a staple of their live shows. A showman himself, Mr. Tiempo thundered through this high-speed music with stiff arms that pounded out tone-clusters in a machine-gun rhythm, bursting to his feet as he blasted off the triumphant final notes.
The second half of the program opened with the New York premiere of
Play: Level 1
by the young composer Andrew Norman. Part of a larger cycle of works, this single movement tossed thematic ideas around the orchestra with great dexterity, using tuned percussion glissandi and other instrumental effects to make the listener feel as if their head was inside the cabinet of an old-school arcade game. That wasn't far from the truth, as Mr. Norman's work seems to seek a musicological bridge between
crescendo
and Nintendo. (The whole of
Play
will be unveiled next season by Mr. Dudamel and this orchestra.)
For the grand finale, Mr. Dudamel reached all the way back to 1944 for the
Suite
from the Aaron Copland ballet
Appalachian Spring
. A 20th century staple, it leapt from movement to movement. At certain points, the conductor simply dropped his arms and let the musicians take over the busy counterpoint. He returned to action for the big set of variations on the Shaker hymn "Simple Gifts", the sonority of the L.A. trumpets and horns making one regret that this popular section of the work is quite short. As an encore, the orchestra offered Bernard Herrmann's love music from Alfred Hitchcock's film
Vertigo.
In Mr Dudamel's hands, Jimmy Stewart and Kim Novak became a 20th century answer to Wagner's
Tristan und Isolde.