Daniil Trifonov makes his Carnegie Hall recital debut.
by
Paul J. Pelkonen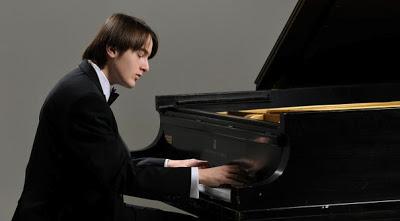 Daniil Trifonov. Photo © 2012 Decca Classics.
For any young musician making their way in the world of classical music, a first solo recital at Carnegie Hall is a big deal. For the young Russian pianist Daniil Trifonov, who started his lessons at the age of five and now makes his first solo appearance at the legendary concert venue at the age of 21, the stakes on Tuesday night were huge.
For this program, Mr. Trifonov chose a program balancing standard repertory with the flashy musicianship one hopes to see from a promising young piano-slinger. With long, seemingly boneless fingers and a keen musical mind, Mr. Trifonov has formidable physical tools that allow him to follow in his country's long tradition of pianistic skill. This concert was his chance to show that he is the next potential carrier of that flame.
The concert opened with Alexander Scriabin's dream-like
Sonata-Fantasie
, a piece with contrasting slow and fast movements. Mr. Trifonov hunched his lanky frame over the keys, seeming to burn with concentration as he drew this composer's unique, diaphanous textures out in the slow movement. Notes peeped through the gossamer of sound, coalescing into themes. In the second movement, the left hand rhythms were played with an almost over-eager drive, propelling the work's rhythm to a blazing finish.
Next up was the Liszt
Piano Sonata No. 1
, a massive single movement with enough thematic material for a four-part symphony. Mr. Trifonov tackled this enormous work with bold strokes, sounding the low notes that mark each "movement" with authority before launching into a full-on assault. The best playing came in the limpid slow movement, shot through with the smoky thematic perfume that later shows up in Wagner's
Tristan und Isolde.
For the second half of his debut recital, Mr. Trifonov chose another set of hurdles: Fréderic Chopin's
24 Preludes
. A continuous performance of this cycle demands more than the ability to play in every key: the works range from short and aphoristic to long and meditative. In short, they require a sensitive artist who can also bring power to these salon meditations when warranted.
Although it is inevitable that certain Preludes (for example
No. 15
, also known as the "Raindrop") have more recognition than others, Mr. Trifonov made a compelling argument for the complete cycle. He played the opening with a lively, optimistic touch;
No. 2
with weight and sorrow. There was a madcap aspect to the interrupted dances of
No. 3
, the piano skitter of
No. 10
and the too-brief melodic flourish of
No. 11
.
No. 13
relieved the claustrophobic atmosphere with its gorgeous, aria-like melody.
With the
"Raindrop" Prelude
reached, an overall arch to this cycle began to take shape. Mr. Trifonov played this famed work slowly, with great power in the central section before returning to the soft, final theme.
No. 20
had the weight of a swinging hammer as the soloist drove the chords home from his shoulders. That same power was present in the final
No. 24
, a whirlwind of turbulent left-hand writing against a ringing, heroic melody played by the right. Mr. Trifonov sped through the long
glissandi
up the keyboard, producing a performance that was all fire and youthful energy.
With the compulsories finished, it was time for encores. Mr. Trifonov chose three works from his native
Russia
to dazzle listeners. He started with Nikolai Medtner's
Fairy Tale No. 2
, combining astute rhythmic playing with wide interval leaps and opportunities for keyboard flair. Next, Sergei Rachmaninoff's transcription of a
Gavotte
from Bach's Violin Partita in E showed the artist's serious side with its formal, almost clipped harmonies.
The young artist completely blew the doors off with his final encore, the
Infernal Dance of King Kaschei
from Stravinksy's
Firebird.
With those first, arrhythmic chords, recognition spread quickly throughout the Hall, followed by astonishment as Mr. Trifonov led an unerring course through the composer's difficult cross-rhythms. Despite the pounding, he still found the lyricism in this barbaric music, leaving listeners stunned, satisfied, and yet wanting to hear him play that ballet's heroic finale.