The Collegiate Chorale pairs Bruckner and Tippett.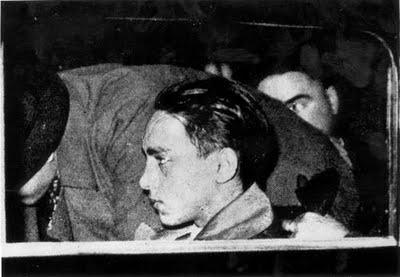 Herschel Grynszpan: his shooting of a German diplomatic official in 1938
was the Nazis excuse for Kristallnacht. Photo from the Holocaust Research Project.
At first glance, there is no connection between Anton Bruckner and Sir Michael Tippett. They were born in different countries and centuries, but both composers wrote music of intense spirituality, the subject of a fascinating program played at Carnegie Hall Friday night. 
The program, which paired Bruckner's
Te Deum
with Tippett's World War II oratorio
A Child of Our Time
was mounted by the Collegiate Chorale, an acclaimed vocal ensemble led by James Bagwell, and featured the reliable American Symphony Orchestra. It made a strong case for both works.
The concert opened with Bruckner's
Te Deum
, a 20-minute paean to God. With its soaring choral parts, pulsing rhythms and deceptively simple harmonies, the
Te Deum
is like a movement from one of his symphonies, with Latin text added. This was a potent performance. Bruckner's characteristic three-two rhythms had muscle and drive, and the Chorale sang with power and conviction.
A Child of Our Time
was Tippett's attempt to address the horrors of
Kristallnacht
, the 48-hour assault upon Jews within Nazi Germany, beginning on Nov. 9, 1938. The Nazis unleashed their thugs after Herschel Grynszpan, a displaced 17-year old boy who was about to be expelled from his refuge in France, shot a minor German diplomatic official in Paris. The Nazis used this incident as an excuse to begin the Holocaust. 
Tippett chose Grynszpan's fate as the seed of his oratorio, a moving examination of the suffering of the Jewish people with the promise of peace and a better world to come. To express that coming redemption, the British composer chose to incorporate American spirituals, (including "Steal Away", "Go Down Moses" and "Deep River") using the music of enslaved Africans in America to create a resonant cross-sympathy with the oppression and murder of the Jews under Hitler's regime. It is powerful stuff.
The cast of four soloists sang both works with fervor. Soprano Nicola Cabell sang both pieces with a fine instrument that got better as the evening went on. The same could be said for tenor Russell Thomas. Hard and metallic in the Bruckner, he improved greatly in the second piece, soaring through the phrase "I would know my shadow and my light.. Veteran mezzo Marietta Simpson made the part of the Mother an intense experience. The finest of the four was bass John Relyea, whose big, dark instrument made him a compelling Narrator. 
Mr. Bagwell and his forces delivered a powerful, respectful performance of this tricky score. The orchestra built Tippett's chords in slow, solemn sequence, with steady rhythms in the timpani and sonorous brass playing. The chorus, balanced at 2/3 female voices, 1/3 male made the spirituals move and swell, providing a soothing aural salve at the end of each of the three movements.
Bruckner's music was touted by the Nazis as an "ideal," "Aryan" composer. Hitler was addicted to his symphonies, and accompanied important announcements with excerpts from the Seventh. Tippett was a pacifist, sentenced to prison when he would not do secondary service for Britain in World War II. But he found his voice as an important English composer with the oratorio
A Child of Our Time
In bringing together these two vastly different usicians, Mr. Bagwell created an evening that was a thoughtful analysis of World War II, and ultimately, a success.