De Profundis at the Weill Recital Hall.
by 
Paul Pelkonen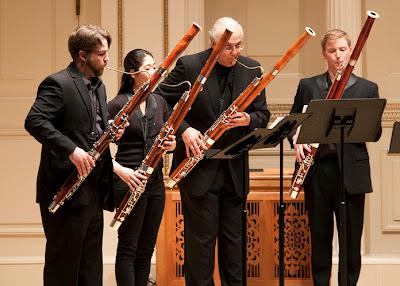 Bassoon-o-matic: Scott Switzer, Yukia Katayama, Frank Morelli and Gabriel Levine
get low at the Weill Recital Hall. Photo by Dana Astmann.
The low instruments of the orchestra are usually relegated to supporting roles.
There are exceptions: the long bassoon solo that opens Stravinsky's
Rite of Spring
, the tuba growls that depict the dragon Fafner in Wagner's
Siegfried.
These are rare, although some composers have plunged the depths of lower instruments, writing solo works, chamber pieces and concertos to showcase these bottom-end instruments.
On Sunday night at the Weill Recital Hall, those exceptions became the norm, with
De Profundis
, a concert celebrating music written entirely in the bass clef. Presented by the Yale Music School as part of their annual 
Yale in New York
 series, the concert opened with a rarity by Mozart: the B Flat Major Duo for Bassoon and Cello.
From there, the listener was taken on an excursion into the lower depths, incorporating works from different musical eras. The 18th century was represented by Bach's famous Toccata and Fugue in D Minor--played here by seven bassoons and a contra, and
Absalon, fili mi
, a short cantata by Heinrich Schütz--scored for four sackbuts (a type of early trombone), organ continuo and bass-baritone Taylor Ward.
The Bach piece is among the composer's most familiar, with the soloists working hard to play Bach's complicated fugal parts. Since Bach composed notes for all ten fingers plus foot pedals (making 12 parts) there were invariably notes missing. A clever arrangement (by Jon Iskra) filled in the gaps so the listener didn't notice. It was accompanied by Prokofiev's cheerful, saucy
Scherzo Humoresque
, which was written entirely for bassoons as a sort of Russian musical joke.
Anton Bruckner was known for his skill at writing huge symphonies for massive orchestras. It was refreshing to hear his
Two Aequale
, church music written for three trombonesNot only was this a microcosm of the composer's writing abilities, but these might be two of the shortest pieces in the Bruckner catalog. The music was resonant and potent, carrying Bruckner's rock-solid message of faith through these instruments--which were left out of the symphony orchestra for many years due to their place of importance in church music.
B001EBSV2I
The 20th century works on the program were led off with two by Krzyztov Penderecki. Mr. Penderecki has long taught at Yale, and his iconoclastic orchestral pieces (most famously the
Threnody for Hiroshima
are familiar to lovers of modern music. His
Serenata
for three cellos bridged Mozart's style with his own unique voice. The
Capriccio
for solo tuba followed. Tubist Jerome Stover showing great breath and embouchre control as he navigated this tricky, exposed piece.
Jacob Druckmann's
Valentine
had bass soloist Donald Palma playing his bull fiddle with hands, a timpani stick, and of course, the bow. Whispered, muttered performance instructions were part of the work, as Mr. Palma slapped, whacked, stroked, rubbed the strings, adding expressive sounds by hitting the belly of his instrument and occasionally playing on the bridge and tailpiece.
The concert concluded with Sofia Gubaidulaina's  
Concerto for Bassoon and Low Strings,
written by the Russian composer in 1975. Soloist Frank Morelli demonstrated the agility of his instrument against the fabric of cellos and a sole double bass. The knotty instrumentation included atonal passages, difficult interval leaps, and a series of high-speed runs that proved the versatility of this difficult and underrated instrument. For the clown of the orchestra, this was no laughing matter.