The Juilliard Orchestra tackles the Alpine Symphony.
by 
Paul Pelkonen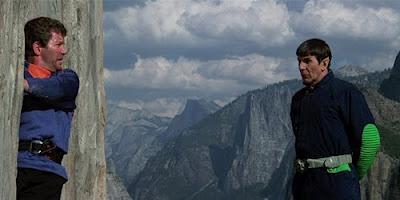 "Spock, you didn't tell me there were two Alpine Symphonies last night!"
Image from Star Trek V: The Final Frontier © 1989 Paramount Pictures.
As a concert-goer, I was faced with an unusual dilemma on Wednesday night. Two competing performances of Richard Strauss'
Alpine Symphony
were being offered at the same time: one at Avery Fisher Hall by the Juilliard Orchestra; the other at Carnegie Hall by the European Youth Orchestra conducted by Vladimir Ashkenazy. 
I opted for Juilliard, and was rewarded with an engaging program led by Emmanuel Villaume, a French maestro who has
conducted
Madame Butterfly, Samson et Dalila
and
Carmen
at the Metropolitan Opera.
If you're not familiar with this work (its German title is
Ein Alpensinfonie
), it is Richard Strauss' final tone poem: a gigantic 51-minute workout for an orchestra that can top out at 148 players (counting the offstage brass band representing a hunting party). In 22 short, contiguous movements, Strauss chronicles a day spent chasing waterfalls, getting lost in the woods, and eventually reaching the peak of a spectacular berg. He then provides the soundtrack for the trip back down the mountain, complete with a realistic orchestral thunderstorm. 
Mr. Villaume led a charged account, drawing on the enthusiasm of the Juilliard students to recreate Strauss' vast mountain landscapes. The horns and cellos evoked the rich Bavarian woodlands. The hunting party came in on cue, loud and raucous but that might have to do with the acoustic issues of Avery Fisher Hall. A solo violin skittered across the ice of a mountain glacier. And the principal oboe, representing the climbers against the vast panorama of nature was plaintive in its solo, which comes at the exact center of this massive work.
The second half of the
Alpine
features the massive storm scene, hazardous for conductors as well as Strauss' exercise-obsessed climbers. Here, Mr. Villaume maintained tight control of the descent, driving the orchestra forward as the sound became dominated by percussion, wind-machine and thunder sheet. The final chords depicting sunset over the mountains were moving, almost otherworldly.
The concert opened with Wagner's mystical Prelude to Act I of
Lohengrin
, a tone poem in itself that depicts the descent of the Holy Grail from heaven. High, divided violins brought a celestial shimmer, backed up first with cellos and horns. Trumpets and clashing cymbals followed, celebrating this opera's peculiar brand of existential glory in a blaze of orchestral colors.
Three fine products of the Juilliard opera program then came to the stage to sing Hector Berlioz' evocative song cycle
Nuit d'ete.
Lei Xu is an opera star on the rise, and her soaring soprano made the opening Villanelle both thrilling and nostalgic. Nathalie Mittelbach's smooth mezzo proved hypnotic in "Sur les lagunes", warmly accompanied by Mr. Villaume. Tenor Spencer Lang showed ideal French idiom and a pleasing, liquid sound in "Au cimetière."