Laurie Anderson and the Kronos Quartet make Landfall.
by Paul J. Pelkonen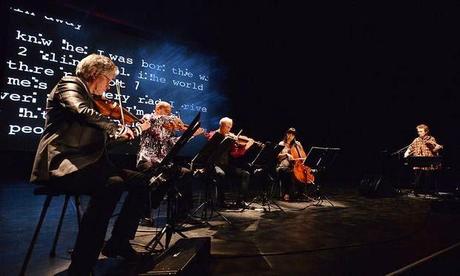 The Kronos Quartet and Laurie Anderson (far right) play Landfall.
Photo by Mark Allan © 2014 Brooklyn Academy of Music.
Laurie Anderson and the Kronos Quartet each occupy a unique place in modern music. A fearless performance artist, she destroyed barriers between pop and avant-garde with tracks like "O Superman" and albums like
Big Science
. Kronos, for their part is at the vanguard of modern music, playing their amplified strings in deep explorations of composers like George Crumb and Terry Riley.
It is fitting then, that these two titanic forces came together this week for
Landfall
, Ms. Anderson's first composition for Kronos and the subject of a series of concerts this week at the BAM Harvey. This new composition was inspired by the assaulting floodwaters of
Hurricane Sandy
and their effect upon Ms. Anderson's hometown of New York. 
Landfall
's New York premiere is part of BAM's ongoing
Nonesuch at 40
celebration.
Landfall opened
with David Harrington's violin cueing the entrance of the remaining three quartet members, followed eventually by Ms. Anderson. The opening was fugue-like, descending, contrapuntal phrases and repetitions that evoked the minimalism of the 1970s, building these small fragments into a rich bulwark of sound. The flood tide came with the addition of Ms. Anderson's half-sung/spoken vocals, keyboard and "souped-up" (her phrase) viola, a small electric instrument that she wielded with the force of a priestess with a ceremonial knife.
The performance, 110 minutes without an intermission, was accompanied by a projection screen featuring repeated phrases and words of a mysterious language generated from the music itself by a new computer program, Erst. Playing an optigan (a special disk-driven scaled-down electronic keyboard that produced drones and piano tones in sympathy with the Kronos strings) Ms. Anderson recited her perspective of the rising waters, the growing, almost claustrophobic fear that this city suffered in that dark week.
The dream-like sound of strings and the shifting, churning drones of Ms. Anderson's electric viola growled with elemental force. The Kronos players moved their bows in fast time, playing shimmering chords and plucking out steady metronome rhythms. Half-menacing, half mourning, the music seemed to stand still before surging suddenly forward into a new section.
In the darkened theater, the shifting, garbled, ever-present projections of code contributed to the hypnotic effect of the song cycle, drawing the audience into the darkness and fear of a New York beseiged by the storm surge, of a blacked-out skyline, darkened apartments, and the desperation of coastal home-owners as the waters rose.
Indeed, the whole of
Landfall
is a symphony of extinction, as Ms. Anderson catalogued objects in outer space and lists of extinct animals, equating the huge hurricane with a galaxy whose name she didn't know. The whole work is an unearthly memorial to the very real terror of Sandy. For those of this city who survived that experience, the work has resonant force.