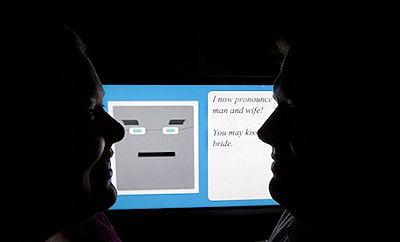 When Miguel Hanson and Diana Wesley get married, they won't stand before a gray haired minister holding a Bible. Instead, they'll be looking at a 30-inch monitor. Mr Hanson, a Houston, Texas high school sign language teacher, web developer and IT consultant, created a minister software program when the couple couldn't get a friend to serve as the minister at their wedding.
On one half of the screen, they'll see a
virtual minister
with an animated, square face with blue eyes and thin, oval glasses. His voice will be heard over a sound system while the text of what he's saying will show up on the other half of the screen.
(via UniqueDaily)
The Presurfer