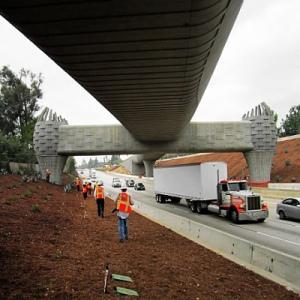 The Arcadia Gold Line bridge spans 584 feet over the Foothill Freeway – Photo by Jim E. Winburn
Spanning 584 feet over the Foothill (210) Freeway, the Arcadia Gold Line bridge is the most visible part of the 11.5-mile eastward extension project that leads through Arcadia, Monrovia, Duarte, Irwindale and Azusa.
Local media were treated to a tour and photo opportunity of this newly finished Gold Line bridge Wednesday morning from Newcastle Park in Arcadia.
The $18.6-million bridge, completed on time and on budget, is only one element of the $1.2 billion extension project through the valley, according to Habib Balian, CEO of the Metro Gold Line Foothill Extension Construction Authority.
And with full funding by Los Angeles County Measure R, Balian was quick to report that the civil project has been generous to the local economy. "Ninety-two percent of everything that is in this project is local," said Balian. "It was not only big contractors, but small business."
According to Balian, materials such as steel-reinforced concrete and rebar were provided by enterprises as local as Irwindale and South Los Angeles.
Artist Andrew Leicester, who is the Metro Gold Line bridge winning designer for the project, came up with the concept of the bridge baskets, intertwining the idea of transportation with Native American basket making.
"The basket is this kind of archetypal vessel," said Leicester, explaining that it was one of the earliest tools of trade and travel. "Today it would be similar to a semi-truck."
The bridge baskets are made of 60 stacked segments and weigh 800 pounds each. They also came with the hefty cost of $500,000 to create and install.
More than 200 community members and project stakeholders have been invited to attend a Gold Line Bridge Completion Ceremony on Saturday, Dec. 15. Attendance has been limited due to the restrictions of space and access to the bridge site.
Metro Gold Line recently issued a construction notice for the Foothill Extension through Dec. 15, when final bridge work is expected to be completed.
For Gold Line Bridge construction information, call the 24-hour toll-free project hotline at (855) 446-1160 or visit the Metro Gold Line website at www.foothillextension.org.