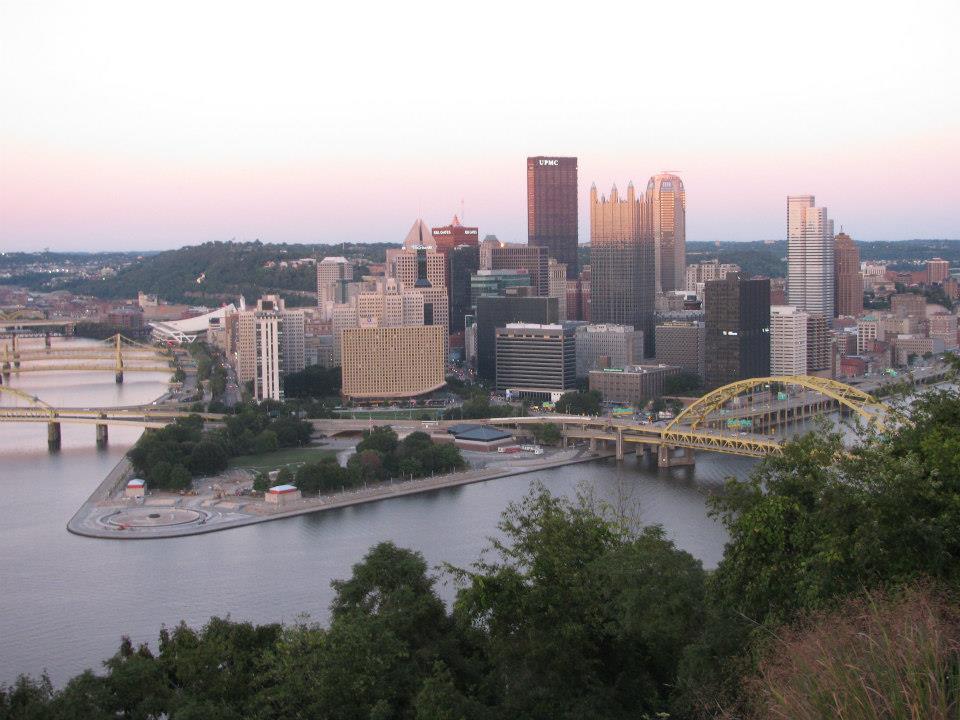 Once we realized that there were only a few months left in the city, we knew that it was time to put together our Pittsburgh bucket list.  Knowing us, you shouldn't be surprised that our bucket list was not experiences and events but rather a restaurant list of our favorites that we wanted to hit one last time.  Although Pittsburgh is full of fun activities and museums that we enjoy frequenting, the restaurants are truly the part about the city that we are going to miss the most. I've never been more sad, and overjoyed, to complete a list in my life.  These are the best, and we're going to miss them.
Teppanyaki Kyoto - Highland Park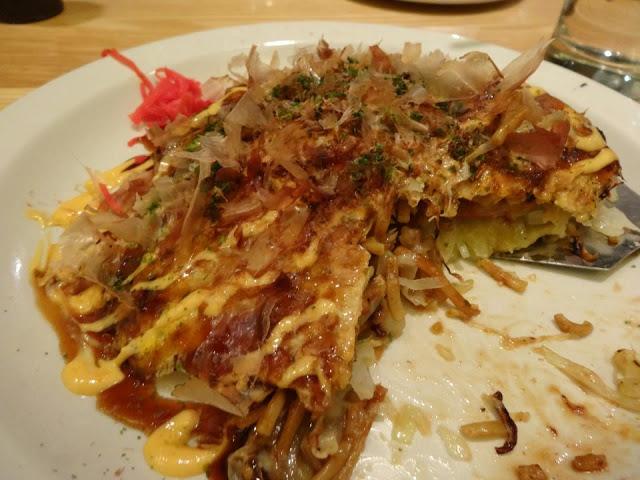 In what is quite possibly the best Japanese restaurant in the city, Teppanyaki Kyoto is one of the newer establishments to be added to our list of favorites.  You see, for a really long time we didn't even know this restaurant existed even though we were on the lookout their cuisine type.  About every six months I would search Google to see if my favorite Japanese food, okonomiyaki, had ever made its way to Pittsburgh.  Time and time again I would be disappointed that my favorite dish was nowhere to be found in the city.  Then, like magic, it appeared!
One day Angie told me about a review in the local paper of a Teppanyaki restaurant that specializes in not only okonomiyaki, but also soba and takoyaki, a few other unusual and quite tasty Japanese foods that you'd be hard pressed to find in the city.  Of course, we went that very night, quite depressed to find out that the restaurant had been opened for almost a full year before we heard about it.  We went, it was delicious (naturally), and probably one of the best iterations of okonomiyaki I've had - including throughout all of Japan.  A month later we went back with my parents.  The next month we took Angie's parents.  The month after that we took a few foodie friends, and onward with that trend. But unfortunately we are now out of months, and our last return to Teppanyaki Kyoto is quickly approaching.  So to our friends at the restaurant, arigato gozaimasu!  But please get a website soon!

Kaya - Strip District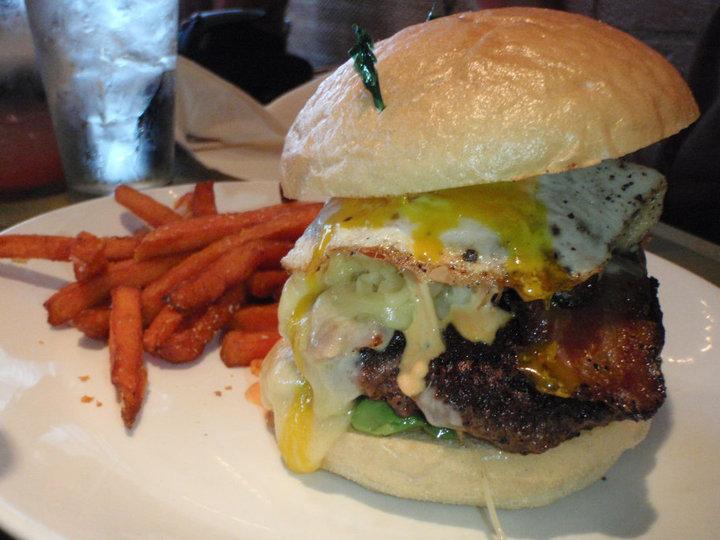 While Pittsburgh is not located anywhere near the Caribbean, this themed restaurant from the Big Burrito restaurant group is one of our favorites.  Even though every Big Burrito restaurant is delicious (other than Mad Mex), Kaya stands out as being our favorite.  But it is not the Caribbean food that makes us go back to Kaya time and time again.  The fish tacos are delicious, the conch fritters do make you drool.  The carafes of Caribbean inspired cocktails come in multiple orders when we visit.  But it is not these foods that make us return.  It is the Kaya Burger.
A hamburger.  
But not just any hamburger.  The signature burger of the restaurant that is so good it bears the same name.  So lets tell you about the toppings on this burger.  A perfectly cooked beef patty topped with Chihuahua cheese, an over easy egg, bacon, avocado, tomato, and smothered with the tangy special sauce known simply as Kaya sauce.  As if that is not enough of a combo to make your mouth water, the addition of the Pittsburgh staple sweet potato fries is enough to complete the meal.  But be warned, you'll need a bib, and maybe a doggy bag.
Razzy Fresh - Squirrel Hill Branch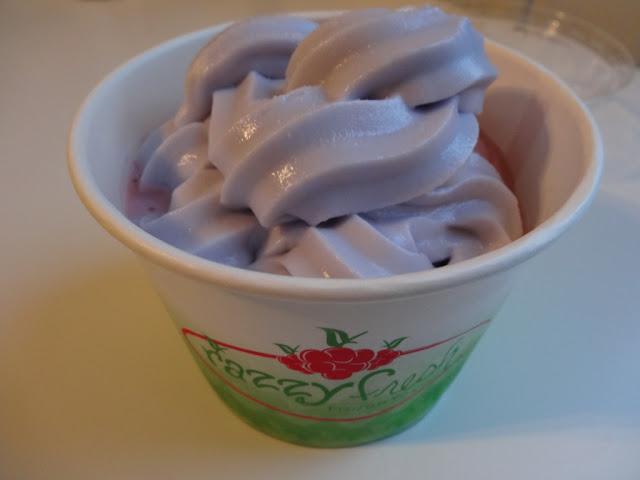 Let me tell you about some frozen yogurt for a minute.  This is not just frozen yogurt, you know, the kind you can get on any street corner anymore.  This is crack. Razzy Fresh is the crack of frozen yogurt, and no competitor has come close in the last three years of being open in the city.
The best part about Razzy Fresh is not the tart nature of most of the yogurts (although it is a big part on why we like it).  Where we are addicts is their bold foray into unusual Asian flavors such as mango, lychee, umi plum, taro (savory), and more domestic flavors like amaretto, cookies and cream, and our favorite, raspberry!  It is so good that we've even been known to go in the dead of winter just to get our favorite snack and when we lived in Squirrel Hill, just go in place of dinner.
Since opening in Squirrel Hill, Razzy Fresh has expanded to several additional locations around the college campuses in Oakland.  Keep up the continued success!
La Tavola - Mount Washington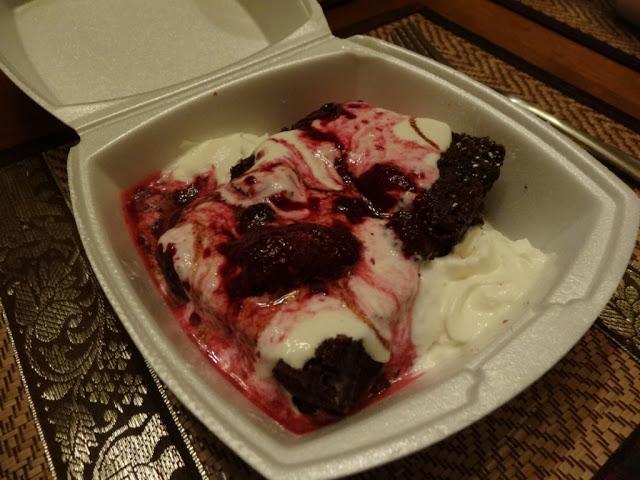 What can you say about a Sicilian restaurant that is managed by the family matriarch?  I mean, really, what is there to say about generations of authentic cooking making its way over from Sicily and practicing in a restaurant within walking distance of your apartment?  Did I mention it is BYOB?  Or that the servers have been there for their entire careers?  How about that La Tavola is home to the best dessert in the entire city.  Hungry yet?  We would be lying if we said we haven't ordered our favorite dessert as take out without anything else and the picture above is actually on our dining room table - not the restaurant.  We would also be lying if we said the staff gave us a weird look, but they were oddly okay with it (do that many people order it to go like we do?).
Our favorite dessert from La Tavola is half the story, but we'll start there because dessert first is our way of life.  It is chocolate cake.  Odd, coming from someone who loathes chocolate.  But this chocolate cake is phenomenal.  Instead of calling it by a boring description, we'll share the name of it with you: Dolce Amore Chocolate Cake with Sweet Cream and Flambe of Berries.  Or to describe it, moist chocolate cake topped with wine and amaretto soaked berries, flambeed, and topped with homemade whipped cream.  Did I mention they also serve the best Sicilian food we've ever had?  The best seared scallops too?  Yeah, its kind of like that.  We also lived within walking distance, although in our case with a giant bottle of Chianti from the nearby liquor store, stumbling distance.
Honorable Mentions
Of course, there are way more than four restaurants in Pittsburgh that were added onto our bucket list.  Unfortunately going into detail on all of them would make our Pittsburgh bucket list become a full series rather than a single entry post.  To round off our list, we have the following additional establishments that we really enjoyed during our time in Pittsburgh and highly recommend to anyone looking for a great meal.  We can assure you, if you try any of these you will not be disappointed.
Zaw's Chinese Food - Squirrel Hill (Best General Tso's and Sweet and Sour Chicken - Take Out)
Smallman Street Deli - Squirrel Hill (Best Rachels)
Point Brugge - Point Breeze (Best Mussels - Red Curry Variety)
Spice Island Tea House - Oakland (Best Authentic Asian Food)
Yo Rita - South Side (Best Variety Tacos - Menu Changes Quarterly)
Nicky's Thai Kitchen - North Side and Downtown (Best Seafood Thai Curry)
Pamela's - Squirrel Hill Branch (Best Breakfast)
Penn Avenue Fish Company - Strip District (Best Seafood)
Max's Allegheny Tavern - North Side (Best German)
big Burrito Restaurant Group - Restaurant group consisting of Umi, Soba, Mad Mex, Kaya (above), Eleven, and Casbah.  Our favorite restaurant group in the city with the exception of Mad Mex (although, great happy hour specials).
Street food stalls throughout the Strip District - All cultures.  Of particular note are Reyna Food's Taco Cart, Mung Bean Pancakes at Sam Bok, Egg Rolls next to Kim Do, and just about anything from inside Wholey's.
A Note on Primanti Brothers
While we have eaten at the celebrated Primanti Brothers many times during our stay in Pittsburgh, we have come to appreciate several other restaurants far more than this "famous" sandwich shop.  It is true that everyone who visits Pittsburgh should try the sandwich at some point in time; however, we do not feel the desire to recommend it on your first, second, or even third trip into the city.  But if you do come to our beloved Pittsburgh in the future and want to try out Primanti Brothers, heed this one warning: you must eat at the Strip District location. In this one instance the original is the best, and the other branches never seem to stack up.  But if you leave disappointed even from there, don't say we didn't warn you.
For all others who visit Pittsburgh and try some of the city's amazing food, we wish you good eating!  You know we have been, and that is something we're truly going to miss.