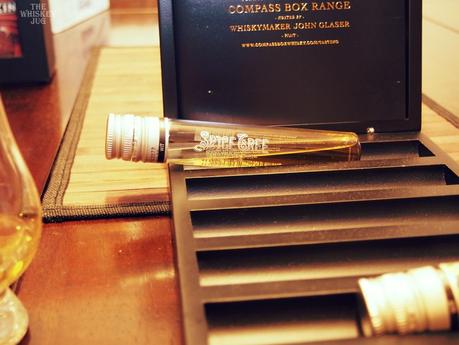 Compass Box Spice Tree is a recreation of an old whisky Compass Box created that they can no longer make due to the unimaginative folks in the SWA (Scotch Whisky Association). And this is where I get to hop on my digital soap-box and make a wee bit of a rant because while I think the SWA is immensely valuable, I think they're stifling innovation in the Scotch industry.
I'm not one of those "the SWA is out-dated and needs to go" folks, for the most part I think they serve a valuable purpose and work diligently to preserve the history, dignity and overall quality of Scotch. And for that I thank them. What I think they do poorly at is modernizing and allowing more room for innovation.
Want to use tequila barrels (which are actually ex-Bourbon barrels anyways)? Sure, do it and let the market decide if it's good by voting with their wallets. Want to try out other methods of cask aging and oak blending? Go right ahead, if it sucks no one will buy it and you'll loose a lot of money. Let the brands innovate, while retaining the purity of the spirit itself, and let the market decide. I mean, they allow caramel coloring which is a purposely deceptive tactic, so really why they make such a fuss about wood types and releasing blend information is utterly ridiculous.
But you know who doesn't use e150A and releases as much blend info as they're legally allowed to? Compass Box, that's who, and we're tasting their Compass Box Spice Tree right… now!
Whiskey Review: Compass Box Spice Tree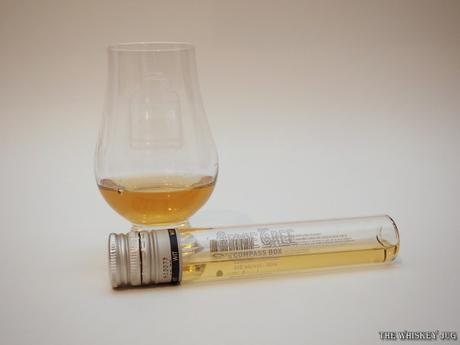 In Compass Box's Words: Compass Box Spice Tree
"A long time ago, we created a rich, bold Scotch whisky called The Spice Tree. Unfortunately, due to its avant garde method of oak-aging, we were compelled by the powers that be to discontinue production. Undeterred, we worked with our cooper friends in both France and Scotland to develop a new, hybrid oak cask that would allow us to achieve similar results, but in a way that would be acceptable to even the most conservative of observers.

Et voila, THE SPICE TREE was resurrected – matured using a custom-made cask with French oak for the heads and American oak for the bodies. SPICE TREE is a rich, intense malt whisky redolent of baking spices and layered with toasty oak accents that complement the underlying distillery character."
Compass Box Spice Tree price, ABV, age and other details
Region: Scotland
Blender: Compass Box
Blend: 60% Clynelish, 20% Dailuaine, 20% Teaninich (25% Hybrid, 22% Hybrid Infrared toast, 32% mocha toast, 21% ex-Bourbon)
Cask: ex-Bourbon and Hybrid Barrles (ex-Bourbon w/ French oak heads)
Age: NAS
ABV: 46%
Non-Chill Filtered | Natural Color
Price: $60
Compass Box Spice Tree Tasting Notes
EYE
Amber
NOSE
Caramel, dried fruit, graham, vanilla frosting, malt, cocoa, citrus and a bit of oak.
PALATE
Malt, dried fruit, caramel, spice, graham, cocoa, honey and citrus with a bit of oaky char and bubblegum.
FINISH
Medium -> Graham, cocoa, fruit, malt and bubblegum.
BALANCE, BODY & FEEL
Good balance, medium body and a mild velvety feel.
Compass Box Spice Tree Review – OVERALL
Compass Box Spice Tree is one of my favorites in the Compass Box core range. There is a nice malty and fruity sweetness that hangs through it with some graham cracker notes that build as it sits. This is a whisky that gets better with a bit of time and air.
After sitting for a bit the aroma comes together into something that can be described as "candied graham cracker" while the palate gives off a chocolate covered graham profile a'la the Ritter Sport treats. If it picked up some vanilla it'd be a bit like a s'more. All-in-all it's a completely enjoyable whisky and I can't recommend it enough, especially to people just getting into Scotch.
SCORE: 85/100 (B)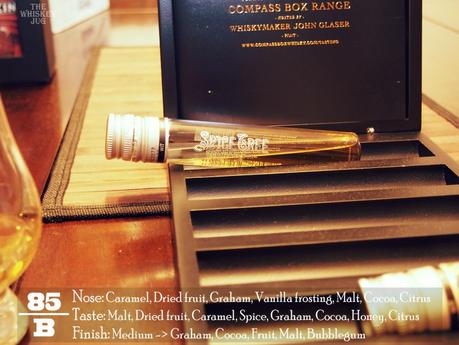 Compass Box Spice Tree Review
Nose -

85

Palate -

85

Finish -

85

Balance, Body & Feel -

85
85
Compass Box Spice Tree Review Summary
Compass Box Spice Tree is really good. It's not complex, it's not deep, it's just a nice pleasant sipper.
'''