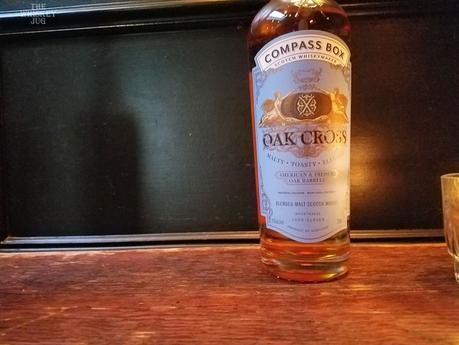 The first time I tried the Compass Box Oak Cross I said to myself "ooh, that's nice". The second time I tried it I thought to myself "Oh wow, that's actually quite nice… quite nice indeed". Thinking about this I included it in a recent tasting I hosted and of everything we drank that night it was the one I picked as my post-tasting dram. A perfect dram for chatting with folks who had just listened to me talk for three hours about whisky.
I know what you're thinking, who the hell would want to listen to me talk for three hours? Well you're obviously underestimating the power of alcohol to make people seem both interesting and charming… and handsome. Anyways, after trying the Compass Box Oak Cross so many times at events and people's houses I decided it's time I finally knuckle down and do a review, so let's get on with it.
Whiskey Review: Compass Box Oak Cross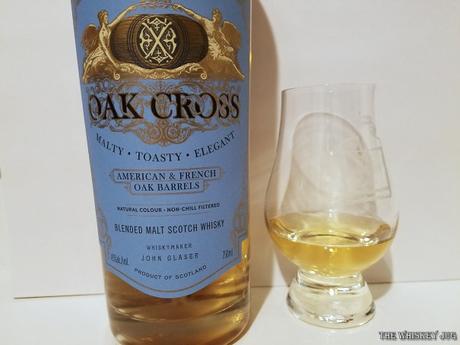 In Compass Box's Words: Compass Box Oak Cross
"All are aged in American oak casks before we place a portion into innovative hybrid casks featuring heavily toasted new French oak heads. These give the whisky an added richness and spice-like complexity. By carefully blending back the French oak-aged whisky with its American oak-aged forebear, we are able to create a refined, rich, but well-mannered malt whisky, with fruity aspects that will remind you of baked apple or pears, complemented by a rich, toasty oak character."
Compass Box Oak Cross price, ABV, age and other details
Region: Scotland
Blender: Compass Box
Blend: 60% Clynelish, 20% Dailuaine, 20% Teaninich (40% Hybrid finished, 60% ex-Bourbon finished)
Cask: ex-Bourbon, Hybrid Barrels (ex-Bourbon w/ French Oak Heads)
Age: NAS (finished for 6 months)
ABV: 43%
Non-Chill Filtered | Natural Color
Price: $55
Compass Box Oak Cross Tasting Notes
EYE
Honey
NOSE
Fruit, vanilla salt water taffy, honeycomb, cinnamon, malt, complex orchard fruit and a bit of sandalwood, leather and an herbal character.
PALATE
Complex fruit, honeycomb, malt, vanilla cake, lemon peel and a bit of leather, oak spice and nuts.
FINISH
Long -> Malt, honey, lemon peel and oak spice.
BALANCE, BODY & FEEL
Well balanced, medium body and a soft velvety feel.
Compass Box Oak Cross Review – OVERALL
This is a fantastically enjoyable whisky. Compass Box Oak Cross is elegant and crisp with a complex fruitiness that's interesting and alluring. It's not cloying nor is it one-noted. There are some great underlying notes of nuts, leather and some more rustic qualities that show up and help keep it from feeling like a one-trick pony. Which is a bit odd.
I usually find that French oak makes things sweeter and sometimes even adds a bubblegum note, but I guess since only 40% of the whisky was finished in the hybrid barrels and only the heads of the hybrid barrels are French oak it couldn't take over. Instead, it might have just added more of the fruity sweetness. Whatever the case, I definitely like the result and would be happy to raise a glass of the Compass Box Oak Cross any day.
SCORE: 87/100 (B+)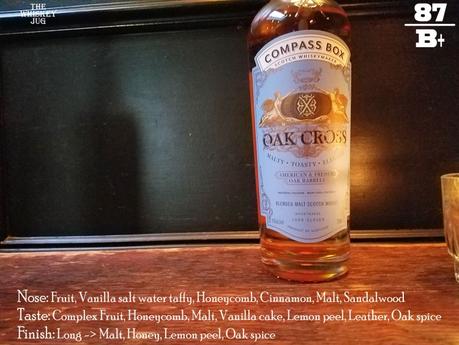 Compass Box Oak Cross Review
Nose -

87

Palate -

87

Finish -

87

Balance, Body & Feel -

87
87
Compass Box Oak Cross Review Summary
Compass Box Oak Cross is a good, complex, interesting whisky and I definitely recommend it.