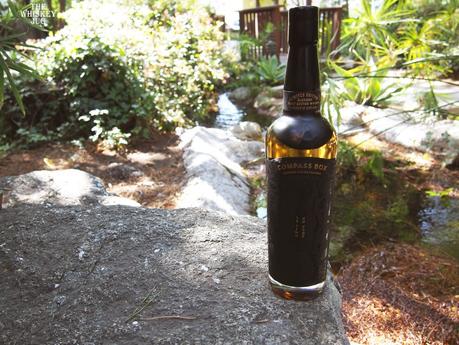 Compass Box No Name is essentially Ardbeg with some Caol Ila and other stuff added to it. Clocking in at over 75% Ardbeg that character comes through heavily, but… there's something there. Something different that stands out and makes it more elegant than the current Ardbeg 10 which has become so much more spirit-driven than in years past. This is, dare I say, better than the current A10?
I'm not flat out saying that, but if you're taking that from what I'm saying who am I to stop you? What I am saying is that Compass Box has, once again, built a masterpiece of a blend with the No Name and fans of Ardbeg and similarly heavily peated whisky should take notice because it's a unique thing to get an indie Ardbeg, let alone an Ardbeg heavy indie blend. Rarefied drinking my friends… rareified drinking.
Whiskey Review: Compass Box No Name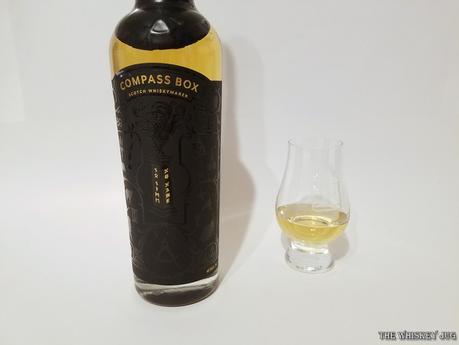 In Compass Box's Words: Compass Box No Name
"We came across a parcel of American oak barrels filled with mature, massively peaty single malt whisky – tarry and full of bonfire-like smokiness. To us, this was a whisky crying out to be tamed and shaped into a very special Compass Box limited edition.

Even peatier than our whisky called 'The Peat Monster' – the staple peated Blended Malt Scotch Whisky in the Compass Box range – the resulting blend is massive in terms of the intensity and complexity of flavour; a whisky brimming with complex peatiness, but tempered with hints of fruit character and an underlying sweetness."
Compass Box No Name price, ABV, age and other details
Region: Scotland
Blender: Compass Box
Blend: 75.5% Ardbeg (RcxB), 10.6% Caol Ila (RxB), 13.4% Clynelish (RcH), 0.5% "Highland Malt" (60% Clynelish, 20% Dailuaine, 20% Teaninich) (HTFOH)
Cask: Re-charred ex-Bourbon, Refill ex-Bourbon, Re-charred Hogshead, Heavy Toast French Oak Hybrid
Age: NAS
ABV: 48.9%
Non-Chill Filtered | Natural Color
Price: $170
Compass Box No Name Tasting Notes
EYE
Golden
NOSE
Honey, malt, peat, cinnamon, fruit, toffee, lemon peel and a bit of vanilla and saline.
PALATE
Honey, fruit, peat, vanilla cake, cinnamon, graham and toffee with touches of anise and herbal spice.
FINISH
Long -> Peat, cinnamon oil. honey, fruit and vanilla.
BALANCE, BODY & FEEL
Great sense of balance, full body and an oily feel.
Compass Box No Name Review – OVERALL
Compass Box No Name is what we in the whiskey drinking, blogging and appreciating community call "good whisky". Mostly made of Ardbeg, and it shows, this is a nicely balanced and composed whisky that doesn't shy away from its wild and smoky side but still manages to deliver a nice bit of fruit, malt and honey. It's what you want in an everyday drinking peated whisky.
The aroma is sweet and crisp and peaty in that uniquely Ardbeg way and the palate delivers a heavier oily version of the same. The finish is elegant and draws out the fade in a way that makes you ready for the next sip, but not anxious for it. Basically what I'm getting to is that I want to drink more of this and while it could use a bit more depth, there's nothing substantial to complain about when it comes to the Compass Box No Name.
SCORE: 89/100 (B+)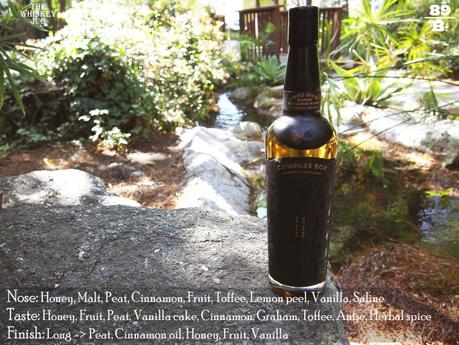 Compass Box No Name Review
Nose -

89

Palate -

90

Finish -

89

Balance, Body & Feel -

90
89.5
Summary
Compass Box No Name is elegant, crisp and delicious. Hard to say it's worth $170, but it's darn good.
''''