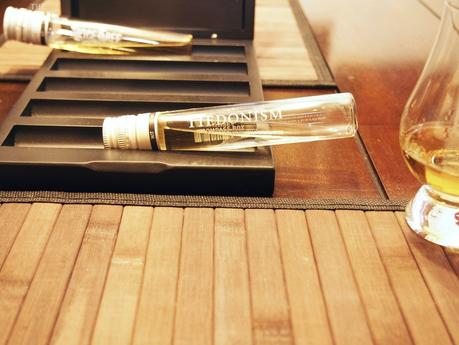 Over the last 5ish years the grain whisky category has been heating up. It's the one area in whisky where you're able to get Scotch at 30, 40 or 50+ years of age for relatively small sums of money and Compass Box Hedonism has been there, quietly making subtle waves for years. Not a single grain, but a blended grain, Hedonism contains grain from two different distilleries with the ex-Bourbon Cameron Bridge taking more of a traditional grain role and making up 66% of the blend.
With the two different styles of Port Dundas grain (ex-Bourbon and Rejuvenated Hogshead) playing the part of the traditional single malts the Compass Box Hedonism brings something interesting and alluring to the grain whisky category. And while it's not one of my favorite categories, it's definitely a category that's worth exploring.
Whiskey Review: Compass Box Hedonism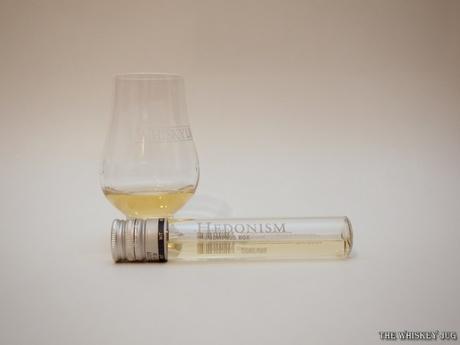 In Compass Box's Words: Compass Box Hedonism
"The inspiration behind our whisky HEDONISM is just that – pleasure, enjoyment, a celebration of that ideal marriage between distilled spirit and high quality oak maturation. The aromas and flavours hint of vanilla, caramel, a delicate fruitiness, accented by flashes of coconut in the finish. This is a whisky that will appeal to both the ardent whisky enthusiast and newcomers to whisky alike."
Compass Box Hedonism price, ABV, age and other details
Region: Scotland
Blender: Compass Box
Blend: 66% Cameron Bridge, 32% Port Dundas (ex-B), 2% Port Dundas (Rejuv Hogs)
Cask: ex-Bourbon & & Rejuvenated Hogshead
Age: NAS
ABV: 43%
Non-Chill Filtered | Natural Color
Price: $100
Compass Box Hedonism Tasting Notes
EYE
Light gold
NOSE
Grain, caramel, green apples, toffee, spice, coconut, vanilla and a bit of wood and cocoa.
PALATE
Grainy caramel, vanilla, spice, toffee, almond milk and a bit of coconut and cocoa.
FINISH
Medium -> Caramel, vanilla and coconut.
BALANCE, BODY & FEEL
Not fully balanced (cloying), medium body and a light syrup feel.
Compass Box Hedonism Review – OVERALL
Ok, so it's not bad, but for me a grain whiskey needs some serious age on it before it gets to be more than a cloying caramel and coconut bomb like the Compass Box Hedonism. Is it interesting? Sure. Is it unique? Somewhat. Is it my cup-of-whisky? Not really.
The aroma and the palate have a cloying sweet grainy caramel and coconut frosting quality that gets exacerbated by a light touch of spirit. I think this is a great grain whisky offering to bring to the market, but for the price there are a lot of things I'd rather drink when I get home from work. Though if all you're looking for is something different to put in your glass, the Compass Box Hedonism will definitely fit the bill!
SCORE: 78/100 (C+)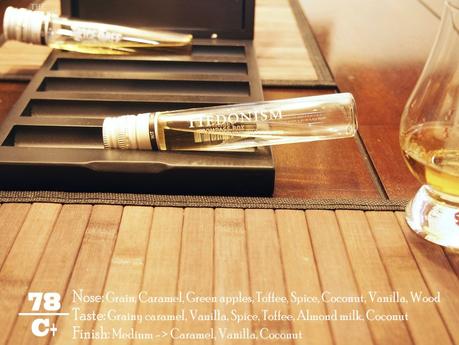 Compass Box Hedonism review
Nose -

79

Palate -

78

Finish -

77

Balance, Body & Feel -

78
78
Compass Box Hedonism Review Summary
Compass Box Hedonism is a grain whisky that's on the younger side and brings come cloying characteristics to it that I'm not overly fond of, but it's still and interesting and fairly unique thing in the market so take that into consideration as well.
'''