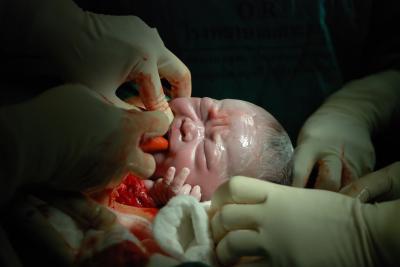 Comparing Birth Stories – UK and Sierra Leone
Pregnancy is an exciting and nerve-wracking time for expectant parents everywhere. Here in the UK there are scans and check-ups to attend throughout this special time, you can be assured of a modern hospital for the delivery. There are plenty of things that new parents worry about, but on the whole, we do not feel that pregnancy is an automatically dangerous thing.
In Sierra Leone, however, things are very different. Whereas in the UK, the risk of maternal death is around 12 in 100,000 (source), this rate climbs to a shocking high of 1 in 21 in Sierra Leone. Infant mortality is also high in Somalia at 104 deaths in 1,000 (source) compared to 5 in 1,000 in the UK.
In 2010, the children's charity World Vision followed the lives of two women – Mamie in Sierra Leone and Ailsa in the UK – in the run up to the births of their children, in order to highlight the different experiences faced by women in different parts of the world.
Hopes
For starters, Ailsa's baby was her firstborn. At 30 years old, Ailsa had sadly suffered a miscarriage, but this pregnancy was full of hope for her and partner, Nick. On the other hand, 29 year old Mamie was expecting her eighth baby. Tragically, only two of her seven other children had survived. Mamie was focused on having her next baby safely.
On top of the fact that Mamie had lost her children, people believed that Mamie was cursed with a bad spirit which had brought about their deaths. Her youngest child, Esther, was given a token at her birth to ward malevolent spirits, which she continued to wear until she was three.
Prenatal Care
After having undergone a miscarriage before, Ailsa was very anxious to get to the 12 week mark for her first scan, which showed her baby healthy and moving. Throughout her pregnancy she underwent a series of tests for the health of her baby and her own, including STDs, anaemia, rubella immunity and hepatitis B. Ailsa planned to stay at home for as long as possible during the labour, safe in the knowledge that she would be able to get an ambulance to hospital if needed. In order to get to the local health centre where she would deliver, Mamie had to rely on a passing motorbike or car, or walk the mile and a half during labour.
During the pregnancy, Mamie did receive some tablets and injections, which were not available to her for the previous pregnancies. This is because this small amount of free healthcare was not available until April 2010, so she could not afford the 30 pence required for a visit to the centre.
Giving Birth
When the time came for Ailsa, Nick was able to drive her to the hospital but there were no available beds, which meant they were put in a labour ward with mothers who weren't yet ready to deliver. During the birth, Ailsa received diamorphine, gas and air and gave birth to her daughter, Poppy, without difficulties. However, there were still no beds available, so after a rest and shower, the new parents made their way home to start to settle into their new roles.
Mamie went into labour in the evening, described as agony, and was helped on foot to the medical centre by her mother, aunt and half-sister. She lay on the medical centres only delivery bed, on top of a blanket she brought herself. She gave birth to her healthy baby boy without any assistance from painkillers. Despite the fact that she had no painkillers, Mamie told World Vision that it was important to her to be silent, so that people would not hear the sounds of childbirth.
It was only after he had received news of his son being safely delivered that Mamie's husband, Suli, went to buy all the baby supplies needed – such as clothes and nappies. In Sierra Leone it is considered bad luck to buy these until the baby is born. Tellingly, rather than saying congratulations on the birth of a new-born, in Sierra Leone and other West African countries, mothers are thanked for bringing a new life into the world.
We congratulate and thank both mothers on the arrival of their children and the fact that they shared their birth stories.  Whilst some may be surprised to hear that Ailsa left the hospital hours after having her baby, Mamie was without  doctors and machines needed to measure her health and assess the risks during and after the birth. Ailsa was visited by antenatal healthcare workers after Poppy was born, supporting the early months of motherhood. Infant and maternal mortality rates in Sierra Leone are slowly improving but there is still a long way to go.
This is a guest post from Liz at World Vision UK. If you are interested to read the birth stories in full, you can see the blog here, or you can contribute to the health of a child by choosing to sponsor a child in Sierra Leone.