You can't turn on the news today without hearing talk of the problems in Syria. It is distressing and it reminds me of something I once heard when watching "The Secret", "if you don't want war don't be against war, be FOR peace." Thesecret.tv
I thought it might be a good time to learn more about the people of Syria, and what better way than to learn about Syrian jewelry?
Silver and gold jewelry that date as far back as the Roman times have been unearthed in archaeological sites in Syria. They still produce crafts in Syria the same way they were created thousands of years ago. Skills in pottery, basketry, embroidery and jewelry are passed down from generation to generation.
The traditional jewelry was made for the wealthy and constructed primarily of silver. It wasn't until the 1940's that the ornamentation was changed to reflect the use of gold materials. The less wealthy would wear similar jewelry designs, but it would be created from bronze or copper.
Typical Syrian jewelry craftsmen did not incorporate precious stones into their jewelry, but often did use semi-precious stones such as turquoise, agate, amber and cornelian.
I find it interesting that these stones are used in many designs today, and you will find designs on QuirkyGirlz.com that incorporate these stones. If Syrian designers could not obtain the semi-precious gems they would use glass ones as a replacement, I suspect this also kept the cost down.
Historical Syrian metalwork is held in high esteem in many cultures around the world. To learn about it is to understand community symbols and marriage traditions.
Historically, Syrian jewelry was associated with bride-wealth and marriage. The groom would give the bride jewelry as part of a marriage contract that would have been negotiated between families. When the bride wore the jewelry it was her announcement to the public about herself and her husband. This would prove how appreciated and highly regarded she was.
This reminds me somewhat of our tradition an engagement ring, and how society might judge the match by the size of the diamond contained within it.
This jewelry given to the bride in Syria could be used however she wanted. This gave the bride a tiny measure of financial control and they were often realistically wearing the family's entire wealth. Instead of putting away dollars in a cookie jar for a rainy day, these women wore their wealth that could be used as income when needed.
http://www.dailystar.com.lb/News/Middle-East/2012/Nov-13/194823-syrians-selling-off-jewelry-to-survive.ashx#axzz2dtdLDtVD
Frequently, coins that were unaltered were made into earrings, pendants, and headbands. Their jewelry was often designed to be worn in a set, or ensemble.
Since there is no silver that is mined in the area, there are few working silversmiths today because they have difficulty obtaining the necessary materials.
I wish Peace for the people of Syria and I hope that everyone takes this opportunity to learn more about their culture, and know that all people deserve peace, love and respect. One thing is for sure, their jewelry is beautiful and I hope that their generational tradition of passing down jewelry making skills does not die.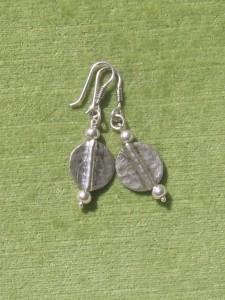 Silver Syrian made earrings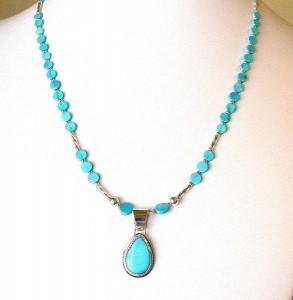 Sleeping Beauty Turquoise and Sterling Silver necklace. QuirkyGirlz.com uses the same materials as ancient Syria.