When I am presenting my handmade jewelry at shows customers will often ask me how I came up with the idea to make a particular necklace or bracelet. Another question is "How do I become a jewelry designer?"
It is hard to go in-depth in such a busy setting so I thought today we would talk about how a jewelry design is developed, what I do as a jewelry designer, and how you might learn to design jewelry too. Perhaps this will be a career path that you would like to follow in the future.
I do not mass-produce the fashion accessories I create; they are each unique and one-of-a-kind. I believe it makes each piece more personal for the person who wears it, and it makes each piece more challenging for me to design. There may be pieces that contain some of the same elements but I strive to never arrange them exactly the same way twice.
When you wear one of my designs you can feel confident that no one in the world owns a piece of jewelry exactly like yours. Each jewelry designer has their own idea about this, once they come up with a design that sells well they may produce it multiple times.
I sometimes sketch out a design using simple tools like a pencil and paper. Some designers will use special software that has been created for computers. I choose the pencil and paper method because I never know when a good idea will strike! Sometimes I will be inspired while sitting in an airport or coffee shop, and sometimes I will wake up from a dream with a great idea. Yes, it's true, I even dream about making jewelry!
The steps that follow are different for my sterling silver bezel set designs. For beaded necklaces I will proceed by laying out my idea on a bead board. This will help me to determine where special components might be placed, how long I will choose to make the necklace, and provide a visual aide before I continue.
Some new incredible semi-precious gemstones I have discovered often inspire a good idea. It may be the shape or color of the stones that lead me in a particular direction. Sometimes an unusual component I have recently added, because of their inherent quirky trait, will dictate part of the design.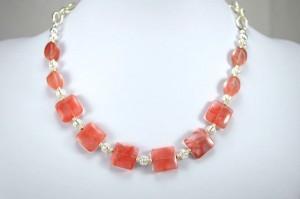 Cherry quartz and silver filagree rounds were inspiration for this necklace.
Seasons can influence the design of a particular piece, and I will often take fashion color trends into consideration. The desert southwest inspires much of my work and the beautiful colors found within it. However, I have had the opportunity to live in many beautiful states and my past does inspire my present.
Findings can shape the final piece and must be taken into consideration when initially designing it. For instance what type of clasp will be chosen to close a necklace or bracelet? What size and type of chain will best compliment the design? Will this earring be a post or wire style? What size and design should be used on the post or what type of wire style would be most complimentary?
In later posts I will go more in-depth about these options because they can be important considerations when you are choosing your jewelry. Some designers may always choose to use the same type of clasp or ear wire, I like to choose the type or style that works best for each piece.
I like to consider comfort and ease of wear of the piece. I personally don't like jewelry that catches on clothing or causes discomfort in some way when you wear it. I strive to create the perfect length in my handmade necklace and bracelets, as this is important to wear ability and a key element of consideration when I am designing a piece. In later posts I will go more in-depth about proper necklace lengths.
Like myself, about 50% of jewelry designers are self-employed. It can be a rewarding profession if it is something you feel passionate about. My passion is making women feel more beautiful inside and out and I think wearing the jewelry that speaks to you can do just that! Do you see jewelry design in your future?
http://www.gia.edu/gem-education/program-jewelry-design-technology
I look forward to your comments and suggestions,
Until next time,
Quirky Girl