Christmas
season is here yet again which can only mean one thing....delicious treats!!  One of the most popular treats during this time of year is gingerbread cookies.  Gingerbread arrived in Europe in about 992 but did not become widely available until the 18th century.  Even though the cookies are more popular, it can also be made into a cake or bread.  We will stick to the basics though. Here is our recipe for sweet, delicious ginger bread cookies!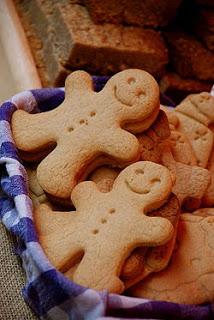 Ingredients:
225g Butter
170g light brown sugar
1 egg, beaten
340g plain flour
1 tspn soda
1 tspn baking powder
2 tspn cinnamon
1 tspn ginger
1/2 tspn salt
1/2 tspn ground cloves
Method:
Beat the butter and sugar until light fluffy
Gradually add egg, beating well
Sift all remaining ingredients and stir into mixture
Press the dough into a flat layer between two sheets of greaseproof paper. Chill 1 hour until firm.
Heat the oven to 190 degrees/375 F/Gas mark 5
Roll out the dough on lightly floured surface, 5mm thickness for softer cookies or thinner for crispy
Cut out any shapes you would like! Place on greased baking tray, chill
Bake in the middle of the oven for 8-10 minutes or until the edges of the cookies are light brown.
Cool for one minute, transfer to wire rack
Dust with icing, sugar, or decorate as you wish!