We made some major inroads over the course of 2014 and laid the foundation for an incredible 2015.  Interviews with bigger artists, more festivals, more events, more contests…it's going to be amazing.  Here's our look ahead.
There's already plenty of events scheduled for 2015 and unlike the temperature outside it's shaping up to be a red hot year of entertainment.
New music comes early this year with Jason Blaine's new single, "Country Side" and video coming on January 5.  Listen for it on country radio and watch the video on CMT Canada this Monday.  Here's the just released teaser for the video:
The first major concert in January, if you were lucky enough to snag tickets, is the sold out Ottawa's New Country 94 concert featuring Dallas Smith, Kira Isabella and Jordan McIntosh on January 8 at the Algonquin Commons Theatre.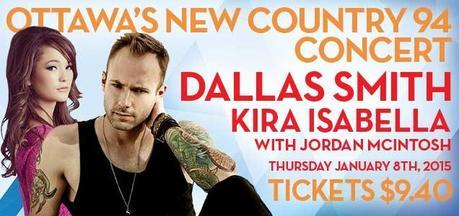 Country 94 Concert featuring Dallas Smith, Kira Isabella and Jordan McIntosh
Dallas won't be wasting any time after next week's show in Ottawa.  Just one week later, on January 15, he kicks off his Tippin' Point Tour with Sundy Best in Fredericton, NB, select venues will also feature Charlie Worsham.   The tour will stop in 22 venues across Canada before wrapping up in mid-February.

Dallas Smith Tippin' Point Tour 2015
Also kicking off on January 15 is the Outlaws and Outsiders tour featuring Aaron Pritchett, Cory Marquardt and introducing newcomers King & Cash.  As of this moment no eastern or central Canada dates have been announced although they are expected to be announced at anytime.  The tour, as of this moment, kicks of in Victoria on January 15 and wraps up in Lloydminster, AB on January 31.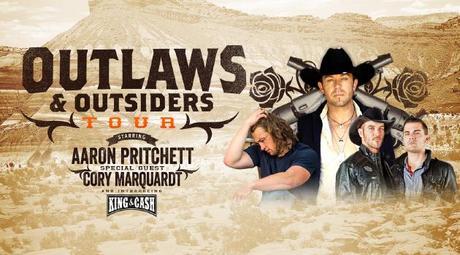 Outlaws-Outsiders featuring Aaron Pritchett, Cory Marquardt and King & Cash
February is loaded with some major stadium shows including Nickelback's No Fixed Address tour (Canadian Tire Centre February 17, Bell Centre Feb 18, Budweiser Gardens Feb 21 and Air Canada Centre Feb 22, western Canadian dates start in early March)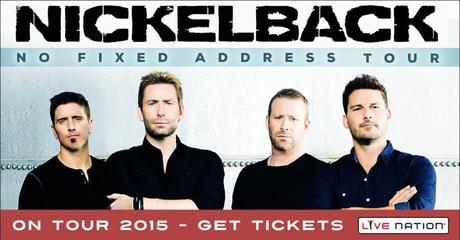 Nickelback No Fixed Address Tour
Also in February is the highly anticipated Florida Georgia Line Anything Goes tour with Canadian dates at the Canadian Tire Centre in Ottawa on Feb 19 and the Rogers K-Rock Centre in Kingston on Feb 20.  The tour also features performances by Thomas Rhett and Frankie Ballard.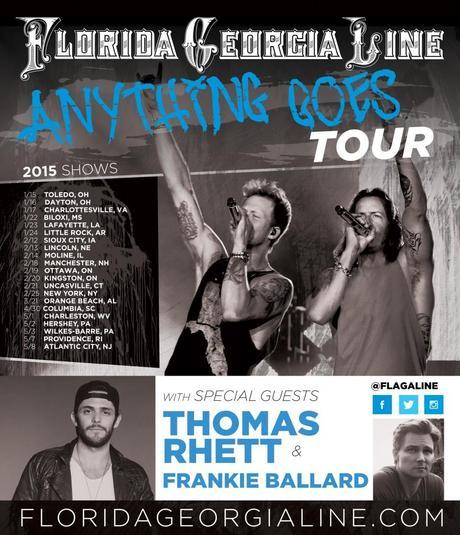 Florida Georgia Line – Anything Goes Tour featuring Thomas Rhett and Frankie Ballard
Immediately following Florida Georgia Line in both Ottawa and Kingston is Bryan Adams who brings his Reckless 30th Anniversary tour to Canada starting in BC in January and coming to Ontario & Quebec with dates in Ottawa (Feb 20), Kingston (Feb 21), Montreal (Feb 23), London (Feb 24), Hamilton (Feb 26), Montreal (Feb 27) and Toronto (Feb 28).  For full tour information and tickets visit: Bryan Adams Reckless Anniversary Tour Canada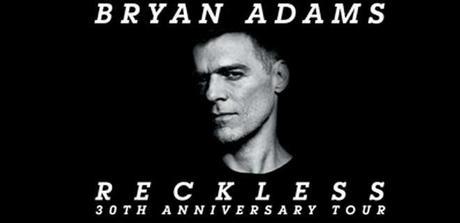 Bryan Adams Reckless 30th Anniversary Tour
Capping off the month, on February 28, is the 4th installment of Shake The Foundation, an annual fundraising event in Renfrew, ON with funds going to support Renfrew Victoria Hospital's kidney and cancer treatment programs.  The fourth annual event will feature headliners Jordan McIntosh and Brea Lawrenson as well as performances from various other local acts.  The event takes place at the Armories in Renfrew, tickets are $15 per person.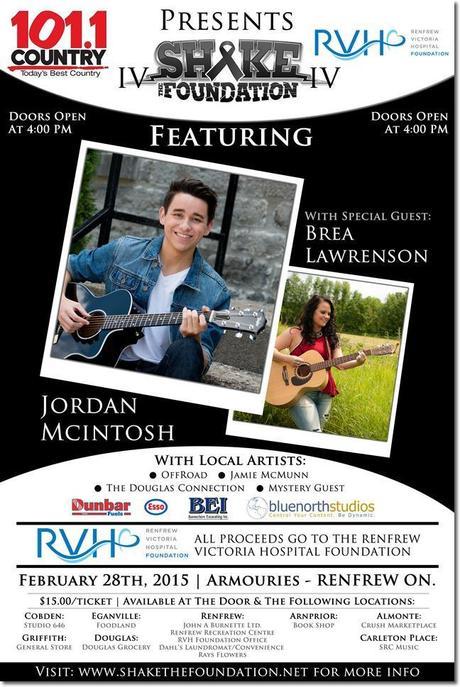 Shake The Foundation IV featuring Jordan McIntosh, Brea Lawrenson and more..
ZZ Top fans get ready, Billy, Frank and Dusty are heading back out on the road this year and they are coming to a venue near you.  Ontario & Quebec dates include Kingston, Ontario March 3, Peterborough March 4, Hamilton March 5, Montreal March 17 and Casino Rama March 19 with a return to Hamilton also scheduled for September 10, 2016.  Full details and ticket information on the band's website.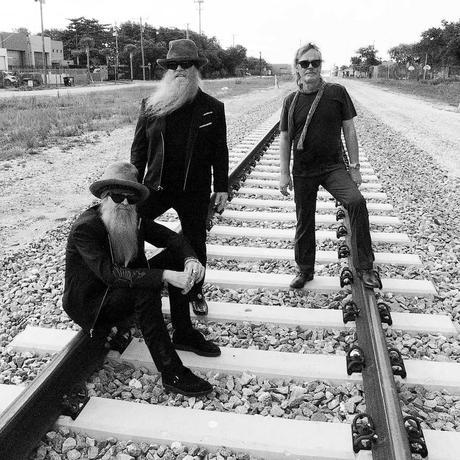 ZZ Top coming to Canada
Also in March another trio of incredible Canadian country artists are set to hit the road.  The When the Lights Go Down Tour features two time CCMA award winner Chad Brownlee, 2014 CCMA Female Artist of the Year Jess Moskaluke and 2013 CCMA Rising Star of the Year Bobby Wills.  The tour kicks off in PEI on March 3 and travels across the country to wrap up in BC on April 4, 2015.  Ontario dates include Peterborough March 10, Oshawa March 11, Kitchener March 12, Barrie March 13, Sudbury March 14, Belleville March 16 and Toronto on March 17.  Full list of tour dates and ticket information available on the tour website WhenTheLightsGoDownTour.com.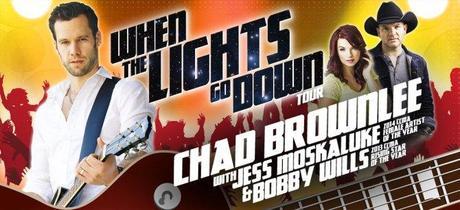 When The Lights Go Down Tour featuring Chad Brownlee, Jess Moskaluke and Bobby Wills
As you can see it's going to be a great year, this is just the first quarter.  Our team will have the latest details on the biggest events and festivals all year long as they are announced as well as exclusive content that you won't find anywhere else.  Everyone ready? Let's officially get 2015 underway!