So, I've just been having a (rare) casual browse on facebook.. -Usually I'm more of an update and close tab kind of girl- But today a little post from Kandee Shoes caught my eye.   They've released a sneak peek at some of their shoes that are yet to be available on the E-Boutique & honestly ladies, they're yummy! - According to their facebook page, the newbies are set to go live in a few days & I for one can't wait to see the whole of the new collection.   I posted a few weeks ago about their new
A/W collection - Skinny Bitch
, all of which are still available online, including the matching purses, wallets and handbags. But one pair of their new range has got me particularly excited! Especially seeing as my Birthday is slowly creeping up!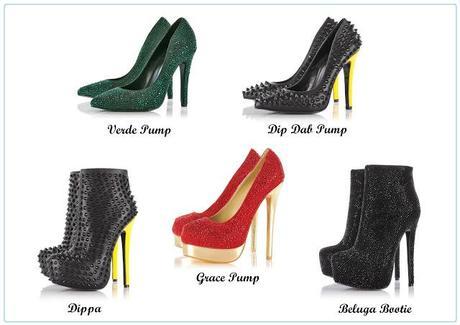 The Dip Dab Pump price is still unknown, but the Verde pump RRP is £169.99. Dippa & Beluga retail around £239.99 & my personal favorite The Grace Pump RRP £169.99!   I've had a bit of a Kandee Crush for a while now, as some of you regular bo Blabbers will already know, my blog usually throws up some sort of Kandee Shoe post every month like verbal diarrhoea! -Sorry for the poo pun-   Anyways, I don't know about you, but I NEED the Grace Pump in my life! & I think my birthday money may have to stretch to a pair. I'm usually more of a boot kind of girl (mainly because I can't walk in stiletto heels) but I would seriously learn to walk just to have a pair!  
So which pair are your favourites?
- don't forget to check back soon for my 10k views giveaway!