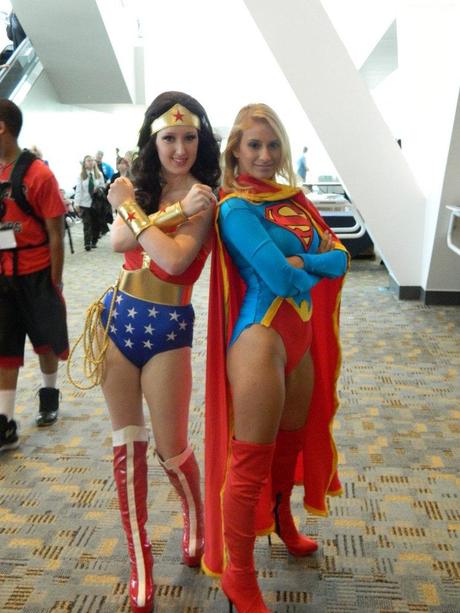 I Google Image searched "women cosplay,"
and this was one of the less sexualized hits.
As a feminist activist, ending the prevalence of violence against women has always been of utmost important to me. As a fangirl, the ability to feel like a full member of my fandoms is integral to my fan experience. These two parts of my identity intersect when it comes to gender issues with fandom. As fandoms are simply smaller groups within our larger society, they are not immune to the sexism and misogyny that plague our culture as a whole.
For example, gender-based harassment and violence have been a social phenomenon since women have entered the public sphere. Consequently, women experience sexual harassment in the larger world as well as within fan spaces. Although the fandom community has given some attention to harassment at conventions and in video games, the conversation has largely minimized the additional layers of complexity that cosplay adds to sexual harassment.
Cosplayers come from diverse backgrounds, and each person who cosplays has his or her own unique motivations for doing so. Certainly, most women cosplay for the same reasons as men do, whether it's fitting into a community, rejecting larger societal expectations, or creating a new identity. However, some women also have more specific, gendered reasons for cosplaying.
Some do so in order to accentuate their femininity and embrace their sexuality. "When I do my cosplays…I try to make myself feel a bit more feminine than usual. It's a way of putting myself out there to show people I'm sexy in a certain way…If I've got it, I may as well do something with it," a woman whose cosplay persona is named Black Cat said. This does not mean that women cosplayers have to be meek or passive; another cosplayer who goes by the name The Vixen Gamer states, "Lots of women love a strong, feminine, female character. You don't have to sacrifice your femininity to be powerful." Through cosplay, these women are taking traditional (read: patriarchal) ideas of femininity and sexuality and repurposing them into a contemporary, woman-driven definition.
On a related note, Black Cat finds that cosplaying in sexy costumes is empowering because it means reclaiming her body and appreciating it for what it is, without worrying that others believe the way she is dressed is too sexy or slutty. An oft-quoted line from the cult classic
Mean Girls
(2004) says that "Halloween is the one night a year when a girl can dress like a total slut and no other girls can say anything about it." Perhaps cosplaying at conventions and other fan gatherings gives women and girls the chance to "dress like a total slut" without being vulnerable to others' judgments.
Women also cosplay in order to claim male-created characters as their own. "Men design these characters, and if I can put it on and look accurate, I think I'm doing something right," Black Cat said. The larger world and society is dominated by the patriarchy, and most of the people in the higher echelons of fandom are men. It's no wonder that women, even those who don't describe themselves as feminists, would want to claim characters with whom they identify through cosplaying them.
While probing the issue of harassment and cosplay, it's important to remember that there is nothing inherent in cosplay that encourages harassment; men harass women regardless of what they're wearing, as inexcusable as such behavior may be. Western culture has taught men that they may – to fit in, sometimes must – comment on women's bodies without castigation, so they harass on a general level.
However, anecdotal evidence makes it seem that women who cosplay are particularly vulnerable to harassment. Take, for example, Mandy Caruso's experience at 2012 New York Comic Con. While cosplaying at the convention, Caruso was sexually harassed by a group of male attendees who claimed to be interviewing her for their blog. Although she did not report what had happened to any authorities at the convention, she posted about the experience on Tumblr. The Tumblr community rallied behind Caruso: the post got 40,000 notes within 24 hours (Pahle), and currently has 50,000.
Stories like Caruso's encouraged Hollaback!, an international organization dedicated to ending street harassment, to run a campaign with the motto "cosplay is not consent" to reinforce the idea that women must be treated with respect no matter what they are wearing. Several Hollaback! chapters have attended conventions to spread this message. (Keyhan) In 2013, Hollaback! Boston made its presence known at Boston Comic Con by walking around the convention with signs inviting women and men to talk about being harassed while in cosplay. Hollaback! Boston cofounder and site leader Britni de la Cretaz reports that many of the Comic Con attendees who saw her sign actively shared their stories or smiled in appreciation of the support and solidarity. (De la Cretaz)
Why is it that men seem to have even less respect for women's right to their own bodies while they are in cosplay? Caruso points out that in her experience, "many people at these cons expect women cosplaying as vixens (or even just wearing particularly flattering costumes) to be open/welcoming to crude male commentary and lecherous ogling." Male convention-goers, like men in most other situations, assume that women dress for men's edification and not for their own sake, so they feel free to share their opinions, wanted or not.
Not every woman who is harassed at conventions is in cosplay, though. One high-profile example of this is Genevieve Valentine, a science fiction writer, who was sexually harassed at 2012 Readercon. She went public with her story on her LiveJournal. The Internet rallied around her in the same way that it supported Caruso, and Valentine embarked on a journey that would last several months to report her harasser and ensure that he received a fitting punishment for his behavior. This underscores the point that women who are harassed while in cosplay are not "asking for it" and should not have to expect harassment based on their mode of dress.
Men harassing women at conventions could be a form of gatekeeping. Men who are fans may feel threatened by women's presence in fandom, so they (subconsciously or not) marginalize them in order to feel dominance. These men want to claim fandom spaces as exclusively their own, so they try to squeeze women out via sexual harassment.
Another reason men harass women at conventions is because look for controversy to get their names known. Because of the ease of use of blog and vlog platforms, many run-of-the-mill gamers and fans have their own YouTube channels and WordPress sites dedicated to fandom. "Some of these dudes do step over the line 'cos they think it'll get a few extra thousand views on YouTube," The Vixen Gamer believes. Caruso specifically did not want to out her harassers because she did not want them to get any publicity out of the incident.
Cosplaying is an activity that many fans participate in. Although they have various reasons for cosplaying, many do so to feel like they are part of a community, to reject larger mainstream society, or to adopt a new identity. Women who cosplay may have additional motivations to dress up, including a desire to embrace their femininity and sexuality, to feel empowered, or to claim male-created characters. Unfortunately, despite activists' efforts, many women who cosplay or simply attend conventions have been subjected to harassment. Sexual harassment is a societal trend that is symptomatic of the patriarchy, but men who harass women in cosplay and at conventions may have more specific reasons for their behavior: they believe that women are cosplaying for men's attention, they are gatekeeping the fandom, they just don't understand that sexual harassment is problematic, or they want to generate controversy and get publicity for their YouTube channel or blog. Overall, the issues of gender, cosplay, and harassment have a complicated but fascinating intersection. It is my fervent hope that one day in the near future, women will no longer have to worry that they will be harassed at Comic Con, or that if they are, there will be easily accessible channels to report the harassment and punish its perpetrator.