Saturday 16 July 2011 was National Cherry Day and in a fitting tribute, I made my own French dessert of Clafoutis. It is quite a rustic yet, deliciously comforting pudding. I am contributing this recipe to the  Simple and in Season July Blog Event  over at
Fabulicious Food
. Thank you Ren! Also, I am forwarding this to Julia Parsons for the fruity round up on
Cherry Pie Blog
. Much appreciated Julia!.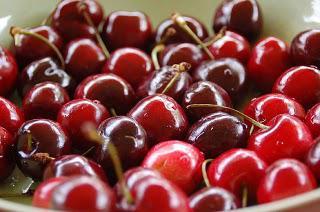 Bowl of Cherries
 Photo credit: JD Wheaton
Time:
Preparation: 15 minutes
Cooking: 30 minutes
Portion Control:
Serves 2-3
Ingredients:
250g cherries
65g of self raising flour
35g of ground almond powder (optional)
4 tbsp of granulated sugar, 2 for batter mixture, 2 for syrup
180 ml of milk
30g of unsalted butter, 15g for batter mixture,15g for syrup
2 medium sized eggs
1 tsp of vanilla essence
A sprinkle of salt
Icing sugar for dusting (optional)
Directions
:
Wash cherries thoroughly and remove stalks and stones.
Slice each cherry in two.
Put oven on at 200 degrees Celsius.
Grease an ovenproof dish round the sides and bottom. I used a dish that measured 6'' by 4''.
Place flour, ground almond powder, eggs, vanilla essence, salt, sugar, butter and milk into a blender.
Whizz the mixture for about 40 seconds making sure that any residue is pushed down the side of blender and leave to rest.
In a frying pan, melt the remaining butter and then add the cherries. Shake the pan tossing the cherries ensuring they are coated in butter.
Sprinkle the remaining sugar over the cherries and stir the mixture for just over a minute or until you achieve a syrupy consistency.
Place the cherries and syrup into the greased ovenproof dish and shake to ensure they are evenly spread.
Pour the batter mixture on top of the cherries and place the dish on the medium tray in oven.
Bake for 25 minutes.
Remove the dish and immediately dust with icing sugar as required.
Serve warm with vanilla ice cream. Yum! Comfort all the way!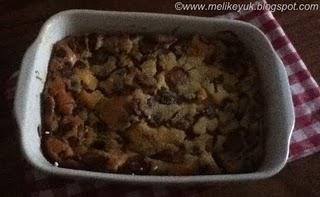 Dessert pour moi: Clafoutis