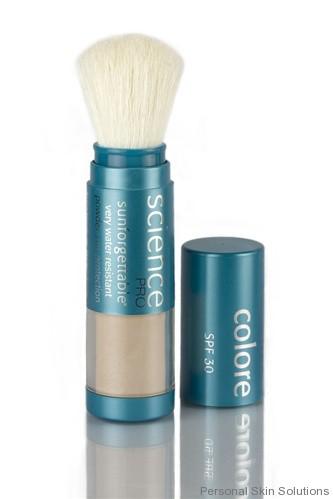 Product Description:
This physical sunscreen is a mineral-based, broad spectrum, powder sunscreen.  It is highly water resistant, feather-light on the skin, and ultra-sheer.
Personal Skin Solutions Description:
This is the sunscreen that I use over my sunscreen.  I know, I know it sounds crazy, but bear with me–it will make sense.  I have been a huge fan of Colorscience for years–their product is very effective and versatile.  I apply it with my "powder" makeup brush, and it goes on light–with no visible build-up.
I live in Southern California, and wearing sunscreen is my religion.  When I shower in the morning, I slather a body sunscreen all over.  During the ensuing skin care routine; I apply a liquid sunscreen SPF 30+ as the final "wet" product on my skin. Inevitably, the liquid sunscreen leaves my face shiny–not an attractive look. To tone down the shine on my face, neck and décolleté, I brush on a light coating of Colorscience Pro Sunforgettables SPF 30. In doing this, I am assured that all skin is well protected, and the liquid product shine is gone.  Additionally, I use this product throughout the day as my shine remover, instead of blotting papers or face powder. Finally, This is the sunscreen that I use on my hands so they stay protected, and I don't get my steering wheel greasy.  The way that I use this product may seem unusual, but it works well for me, and my clients rave about it.
Manufacturer's Product Profile:
Product Name:  Colorscience Sunforgettables SPF 30 Sunscreen
Size: 20 g/0.7 oz
Color: Available in several shades

Features:
Broad-spectrum sun protection (UVA/UVB)
Physical sunscreen (zinc oxide and titanium dioxide)
Sheer mineral powder
Very water-resistant
Convienent self-dispensing brush container
Ingredients:
Titanium Dioxide 12%, Zinc Oxide 12%. Mica, Dimethicone/vinyldimethicone Crosspolymer, Corallina Officinalis, Calcium Silicate. May Contain: Iron Oxides, Titanium Dioxide, Dimethicone.
Note: This product review is based on product that I purchased, at full price,  from a retail store.  
Where to purchase:
Beauty.com

Store Locator
Have you used Colorscience Pro Sunforgettables products? What do you think?