Splashy hues in kitchens can totally transform the space and set the mood to cook in there. These days, kitchens are more than a place where one prepares meals. It is a common area in the home where family and friends get together in a casual setting. I am also more alert and inspired to cook when the gadgets and gizmos are functional and fun. In today's post, I'm glad to share my views on two products that I recently reviewed.
First, it is Ozeri's Elite Chef 12 Piece Stainless Steel Knife & Cutting Mat Set, Multicolor. The title says it all - this comes in pretty colors! The mats are BPA free and do not slip. Knives are made of stainless steel, and each has a purpose - from cutting vegetables, steaks, bread and more. The instructions on the package explain it all well. I used the vegetable and bread knives and very pleased with its quality. It is razor sharp and makes slicing and dicing easy. And, they come with covers for safe storage. They are also ergonomically designed for a good grip as well. Overall, I don't have anything to complain about this set.


Next, I would like to introduce you to a pair of silicone gloves made by AYL. These gloves come with a heat-resistant cotton lining inside. I've ones without this lining, and I've never felt comfortable wearing them. It feels extremely safe to wear for baking and barbecuing. I tested, and my hands did not feel a bit of heat from the oven. These gloves can be easily cleaned as silicone is odor and color free. Another nice feature is these can be hung! It has added a splash of color to my kitchen and motivating me to use the oven and my grill more!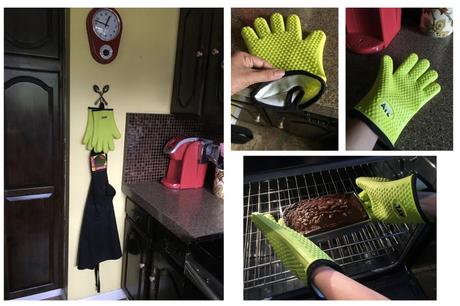 Disclaimer: I received the Ozeri's Elite Chef 12 Piece Stainless Steel Knife & Cutting Mat Set, Multicolor and AYL's Silicone Gloves for review purposes. All opinions are mine.