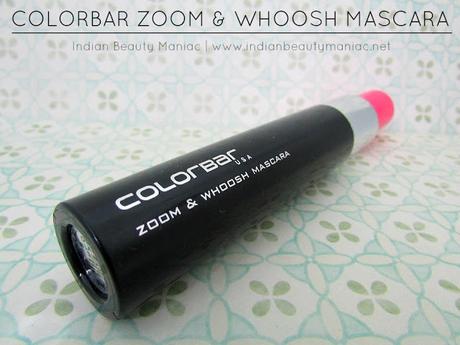 Colorbar Zoom and Whoosh Mascara - review
Hello friends,
Mascaras are one department I normally don't experiment much with. Even though I did try couple of mascaras every now and then from brands such as Rimmel and Maybelline, I have never repurchased them much and for the past year I have been a true L'Oreal loyalist sincerely repurchasing their mascaras.
Few days ago I was at the Colorbar outlet and picked a few stuffs including their newly launched gel nail polishes and their

zoom and whoosh mascara

. Curiosity is the only reason for picking this up as I was quite new to the concept of restricting the quantum of product in the mascara wand and thus giving us users, optimum control over how dramatic we want our lashes to look.
Price: INR 650/- but it will normally be subject to some offer or the other. Now available at INR 553/- at NYKAA.
REVIEW
All colorbar products come in their metallic carton packing which I lost the very day I tried this on. The mascara comes in a

cylindrical tube format with a single wand that goes through a smaller tube when you pull it out by unscrewing the pink part. When you unscrew it from the black part of the lid, the wand does not go through the smaller cylinder and thus you get more product on the spoolie making your lash look more voluminous.
Colorbar Zoom and Whoosh Mascara - working mechanism
The pink part with lesser product on the spoolie is supposed to lengthen your lashes and the black part with more product is supposed to add volume. All along, I have been of the opinion that lengthening and imparting volume somehow depended on the formula and the shape of the spoolie.
I have long lashes naturally so I always look for mascaras that add volume to them. And, by volume, I mean fluttery and lush kind of volume. I don't like clumpy spider-legs like lashes that stick to each other and refuse to budge unless I add a small lash comb to the rescue.
The volume imparting wand was nothing but an utter disaster for my lashes.

It deposited more product than what my lashes could handle and as a result, my lashes were nothing but a big goopy mess. The product per se is very good and dries up easily. On the flip side, it gave me very less time to work with my lash comb and separate my clumped lashes.
On the other hand,

the lengthening part was very good.

It gave me the exact effect which I envision in my mascaras. It made my lashes a little longer and very presentable. It did not weigh my lashes down and gave that fluttery lift which i love. You can see from the picture that it does not look unnatural at all. Lashes look very effortless and fluttery with quite an impressive length.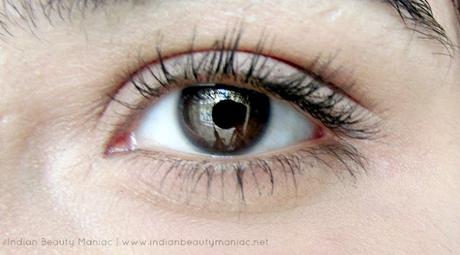 Colorbar Zoom and Whoosh Mascara - on my eyes
What I feel about Colorbar Zoom and Whoosh Mascara
Nice unique concept
Fast drying formula
Water resistant
Affordable
The lengthening part is very good - No clumping at all
Water-Proof.
The voluminous part did not work for me.
Some more images: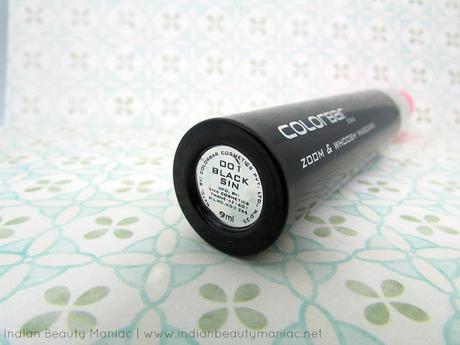 Colorbar Zoom and Whoosh Mascara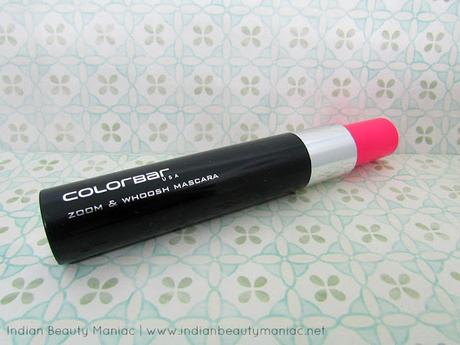 Colorbar Zoom and Whoosh Mascara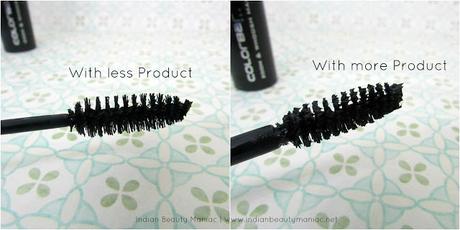 Colorbar Zoom and Whoosh Mascara - Spoolie
If you are someone with really sparse lashes, this mascara will be an affordable option compared to L'Oreal or other high end ones. I will use it up for the sake of my money but I am personally not impressed with it.
Hope you girls liked my review. Do let me know on how you like your lashes to be and what's your favorite product.