Hi girls,
It finally rained here in Mumbai yesterday some relief from the scorching heat. What about you guys? I hope you are all set to rock the weekend. If you are a make up junkie you would know the importance of make up brushes. Over a period of time I have collected a decent amount of brushes and I feel if you do apply make up everyday brushes are a  must in your vanity. Initially there were few brands who would manufacture make up brushes but now most brands are sooner or later jumping on the bandwagon of make up brushes. The brush I shall review today is from Colorbar called Emphaseyes Eye Blending brush. Let us find out more about this brush and its uses in my review...

Price: Rs.250/- Available at all Colorbar Stores across India even online.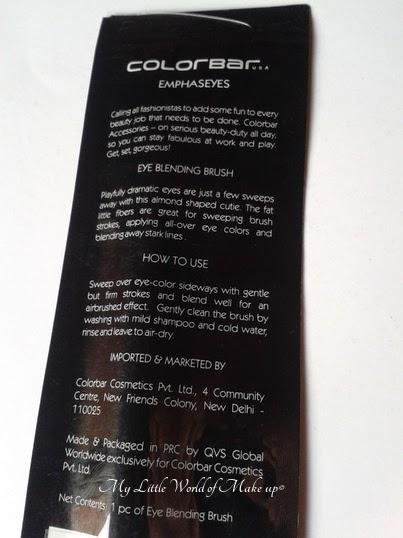 The brush looks like an expensive one and has a white handle. I love stuff which is white like white earings, accessories, watch and now even make up brushes... Lol. I know the Elf dollar line has similar kind of brushes. It comes in a nice plastic packaging with all the information behind and has a sealed lock type of pouch on the top.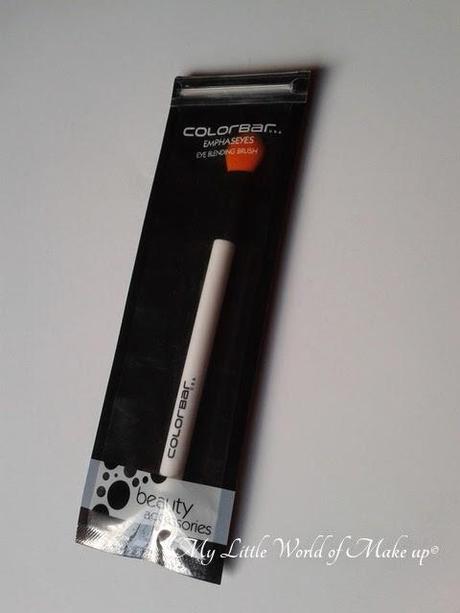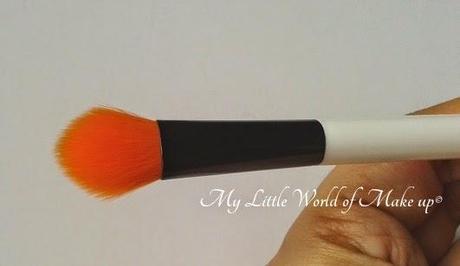 For starters let me tell you that Colorbar is a cruelty free brand. The bristles are made of artificial hair but are very very soft.The body is white with the logo printed on it and the brush hair is orange in color making it attractive to look at. The company claims that it is a blending brush which is essentially for the eyes but this is a multi purpose brush in my opinion. People with deep set or hooded eyes may have a problem using it as it is quite wide. Usually blending brushes are dome shaped but this one is a bit flat and rounded at the edges. Yes it does a decent job of blending the eye shadow but can also be used below the eyes for concealer and a shadow application brush and also to conceal blemishes on the face like for example around the mouth. I think it is a must have multi purpose brush and you must get it.The Good:Easily available.Inexpensive.Does a good job of blending.Cruelty free.Stylish white packaging- looks classy.Multi purpose brush.The not so Good:Can't think of any except the fact that a blending brush is dome shaped and this is not.
Rating: 4.5/5
I think this is a multi purpose and versatile brush and a must have for every make up lover who love applying make up on a regular basis. The price and quality is decent and hence I recommend everyone to give this brush a try.I hope this review was helpful to all those reading. Do leave a comment it makes my day and if you are visiting my blog for the first time do leave your blog links for me to check out.Have a great day ahead.. xoxo