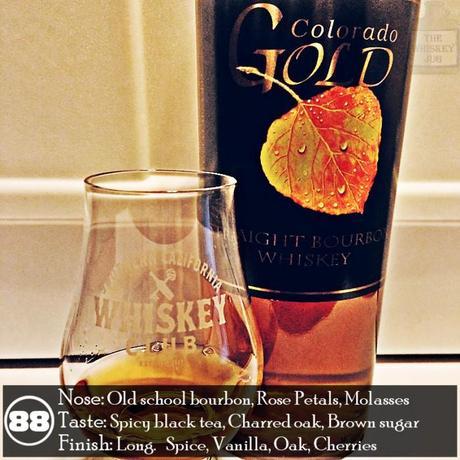 I'm going to start with a full disclosure. I was one of the people to help bring Colorado Gold to California and I currently sell this whiskey. In the summer of 2012 I met with Tom Cooper who founded the distillery in 2008 (he sold it to Peter Caciola in 2012) and tried Colorado Gold bourbon for the first time. I liked it.
It was well balanced and had great depth of flavor. The only problem I had with the bourbon was it being bottled at 80 proof. I could tell it had structure and I believed the bourbon would be even better if bottled at 90 proof or above. Tom and I talked for a bit about this and at the end of our meeting he agreed to bottle the bourbon at 90 proof for the California Market.
This was a big deal because he had actually barreled some of the bourbon new make below 90 proof so it was going to be a feat. This made me even more excited that California was going to be treated as the special market that it is. As soon as he could a sample was sent out to me and it confirmed my assumptions that the bourbon is great at 90 proof and it's now bottled at 90 proof for the rest of the country as well (so much for exclusivity).
In addition to now being 90 proof it's also bottled as a single cask whiskey. Which means each barrel has its own unique signature and the cask I'm reviewing today is 15-C in the old label. Some of my clients and I joke that these were some of the ugliest bottles of awesome bourbon around.
Colorado Gold Bourbon Review
Distiller: Colorado Gold
ABV: 45%
Price: $55
Cask: 15-C
EYE
Bourbon Brown
NOSE
Cool old school bourbon. What I mean by this is not too much corn, massive rose petals, molasses a little bit of vanilla, wet dog and wood glue. Each time I pick up the glass the bourbon changes a little. It doesn't have any green pepper, raw oak or that thin quality I sometimes find, and don't like, in America's native spirit.
PALATE
Spicy black tea and charred oak. Brown sugar with some wheat bread and the lightest bit of cherry. Not too chewy.
FINISH
Stays spicy and then transfers to vanilla and more spicy oak. Cherries creep in after about 5-8 seconds and they linger and become sweeter.
OVERALL
If I were to criticize anything about the Colorado Gold Bourbon, it would be that I wish this cask had a bit more thickness to it. Though the flavor is so rich and deep in this one that makes up for the lighter texture. Either way I won't be reviewing anything else tonight because all I want is to keep drinking this!
SCORE: 88/100