The choice of color for a bathroom is a great way to make it stand out from the rest. It is also an excellent opportunity to choose a color scheme that best represents you. Whether you prefer a scheme that is bold and exciting, or something soft and calming, there are endless choices for mixing and matching colors. Colors that compliment each other help create balanced and pleasing interiors. Contrasting colors are an effective way to make a statement with color. Certain color combinations work very well together that you would have otherwise never imagined. Check out the full article on Homedit.com by following the link below.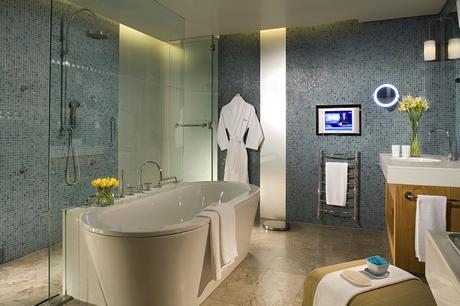 Image via WikiMedia
White is the most preferred color for a bathroom because it is reminiscent of cleanliness and purity. It's also very versatile because white goes well with many other colors. Using bold colors to contrast against white is good for refreshing and youthful designs. A high level of contrast between colors creates interiors that feel fun and exciting. On the other hand, dark colors have a more refined and sophisticated appeal when combined with lighter tones. Pastel colors are soft so they blend in well with other colors. They help add warmth and contrast to a white interior and help balance out the starkness of dark colors.
Accessories and bathroom features such as the bathtub, sink, and cabinets can be used to incorporate more color without having to break out the paint and rollers. A well placed accent piece can go a long way towards creating contrast and adding aesthetic value. Materials are also an important part of a bathroom's color scheme. When choosing bathroom tile and flooring, try to find materials whose colors work well together.
Read the Full Article & View Pictures on Homedit.com
Trade Winds Imports offers a selection of colorful bathroom vanities that stand out from the mundane and typical color choices. If you are looking for colorful vessel sinks, be sure to check out the options available.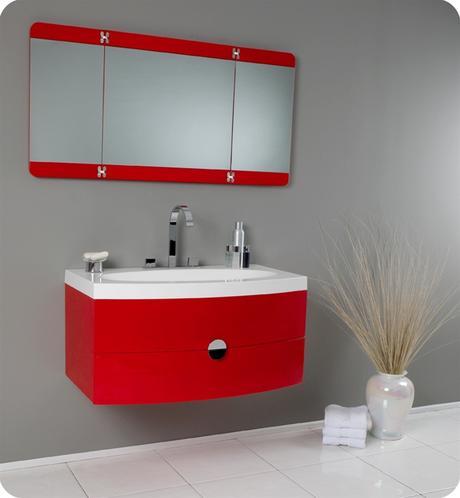 Energia Single Bath Vanity