I think after last week's explosion of color, I decided to really dig deep and pull out all those solid color tops. My mother saw me laying out clothes and gave me a yellow cardigan that she said she doesn't wear.
Truth is, I've been getting braver recently with my style. I have always loved fashion and putting together outfits, but in high school for instance I didn't have the confidence to actually wear some of the looks I saw.  But even so, I  would always buy one key piece for that season. Something I felt comfortable in confident in.
And thanks to all the lovely style bloggers out there, I have picked up some fabulous tips and tricks on how to make color and this Spring's trends work for this mamรก. I like seeing women of all shapes and sizes looking their best.
With that being said, this weekend I played around with color blocking and came up with this little number: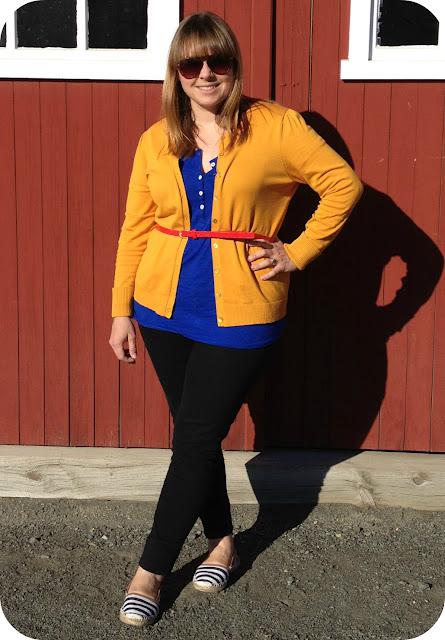 Color blocking in 2012: Yellow, Blue & Red
But hang on! Weren't we all doing some serious color blocking back in the 80's and early 1990's?? I know I was. I really should bring out my old pictures. I remember I had a purple sweatsuit and a yellow sweatsuit and I would wear the purple bottoms with the yellow top. Talk about a bold statement! 
Anyway, I wore this outfit out on Saturday night with jeans and boots, then again on Sunday with a pair of striped espadrilles I picked up at JCP for $20. It was 70 degrees here in the nation's capital so the shoes were totally allowed to come out!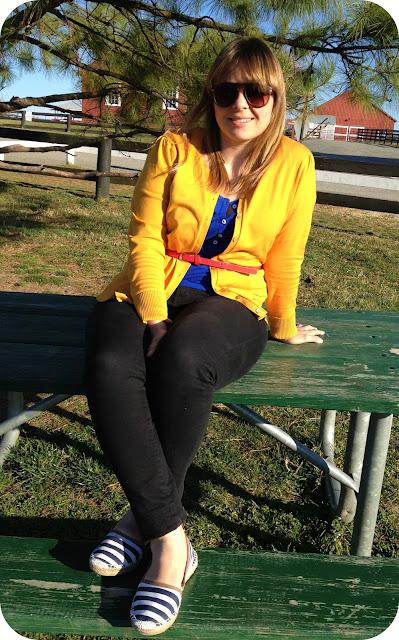 Not sure what color blocking is?
Don't worry, I didn't know the term either, but if you look closely you will notice that you have definitely seen it, especially in the last year or you may already be wearing it. I was!
I can't wait to open go to our storage next week to get more of our things from London so I can take out my Spring and Summer clothes. I will have a few more examples to show this week!
Basically it's about mixing and clashing bold and bright colors together. I found a color wheel (there are tons!) that show you what colors go well together...so orange and blues, yellow and purple, etc.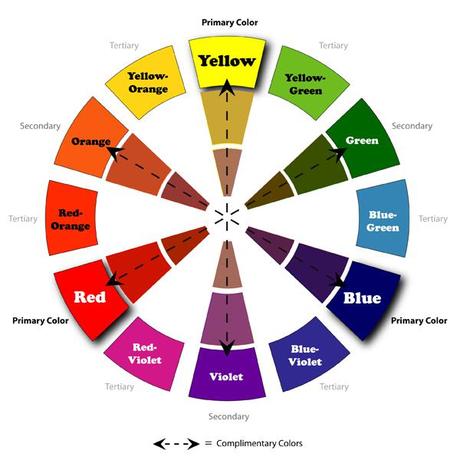 It's a big step for a colophobe like me, but like I mentioned last week, start with what you have.
1. Open your closet and find solid color tops, cardigans, scarfs, jeans, dresses, shoes
2. Lay them all out and see what colors look good next to each other
3. Start putting together an outfit. Start small if you are nervous about color - match a bright tee, with a cardigan and belt (as I did)
4. Don't forget accessories! If you have a bright bag add that to your outfit
4. Take a picture of yourself, see how you feel with color and then go out and rock your new look!
5. Remember, have fun and wear what makes you comfortable
I'm no expert, but I'm slowing discovering new ideas and ways to update and improve my style.


So what do you think, will you brave the brights and do a bit of color blocking this year? 

Or were you way ahead of the game and rocking this look before? 


Cardigan: My mother's closet Bright Blue Top: Gap Belt: Primark Espadrilles: JCP
See another example of color blocking: blue and orange Gap sweater
Linking up with Mom Trends for Monday Mingle