This post was sponsored by Better Than Bouillon as part of an Influencer Activation for Influence Central and all opinions expressed in my post are my own.
Colombian Ajiaco is a chicken and potato soup made with corn on the cob, cilantro, and guascas-a herb from the daisy family used in Colombian cuisine. It is native to the region of Bogotá, Colombia's sprawling, high-altitude capital, and is perfect for cold winter nights and whenever you need a bowl of comforting chicken soup.
What is it about a bowl of chicken soup that just soothes the soul? I haven't figured it out, but when I'm craving comfort, I'm skipping the pizza and fries that most people crave. For me, Colombian Ajiaco is my go-to comfort food recipe, especially as the weather cools and things get cozy. Ajiaco is a soup that is traditional to Bogotá, the capital of Colombia. Most people think Colombia's weather is tropical, so why would soup be such an important staple?
Well, Bogotá is located on top of a mountain, part of one of the most famous mountain ranges (the Andes) in the world. On a normal day, it will be:
Freezing cold when you wake up (most Colombians wake up before dawn)
Quite nice and spring like in the morning
Reasonably warm in the early afternoon (short sleeves time!)
Rain in the mid afternoon (how much rain depends on the season - Bogotá is almost at the equator so it has more subtle seasons, but it does still have seasons no matter what the Colombians tell you)
Briefly sunny again before the sun goes down and the temperature starts dropping.
Given those dynamics, it makes total sense why you'd want a hearty bowl of this chicken and potato soup on a regular basis. This weeknight friendly recipe has that "cooked all day" flavor without the fuss, thanks to Better Than Bouillon! It's my favorite bouillon product and so much more delicious that those little cubes I grew up with.
What Does Ajiaco Mean?
Ajiaco is a dish that is found in Colombia, Peru and . The dish traces back to Cuba in the 16 th century, but there isn't a clear history or explanation about it's origin and meaning. Some believe that the dish originated with the indigenous tribe of Taino. They are known inhabitants of parts of the Caribbean, including Cuba. The phrase "aji" is said to have originated from the Taino tribe's language. "Aji" means "hot pepper" in Spanish. Each country has it's own version, with Colombia's being the most popular.
What Ingredients Are In Colombian Ajiaco?
Colombian Ajiaco is made with shredded chicken, potatoes, garlic, scallions and a distinctive herb called guascas. Guascas (galinsoga parviflora) is a plant in the daisy family that is used as an herb in many South American cuisines, but is especially prevalent in the cuisines of Colombia and Peru. Some people say it tastes like artichokes, others like peanuts, but it's definitely an essential ingredient in this recipe. You can find it at some Latin markets and online.
How Do You Make Colombian Ajiaco?
Colombian Ajiaco is a simple chicken soup recipe that's light on ingredients but big on flavor. First, the chicken is cooked in a chickenflavored broth with garlic, cilantro, green onion, and the herb guascas. Then the chicken is removed and shredded while the potatoes and corn added into the soup and cooked until soft. The shredded chicken is added back to the soup at the end, and the finished dish is served with a side of cooked white rice, sliced avocado, heavy cream, and capers. Que rico!
The broth of this soup is the shining star, and it's made easy with Better Than Bouillon. The comforting flavors of this soup remind me of my in-laws, who are originally Colombia. My husband's aunt makes a delicious version of this recipe, usually for big family parties. With the holidays looking a bit different this year, it's important for me to still enjoy making these memorable comfort dishes that are full of familiar flavors and help me feel connected to my loved one.
I hope you love this comforting Ajiaco recipe that reminds me of love, family and the holidays. Make this dish once and I guarantee it will become a staple in your home too. And check out the entire lineup of Better Than Bouillonbases to take your meals to the next level this holiday season!
Want more Colombian comfort food classics? Check out these Colombian inspired recipes from Delish D'Lites!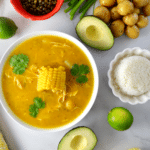 Colombian Ajiaco (Chicken and Potato Soup)