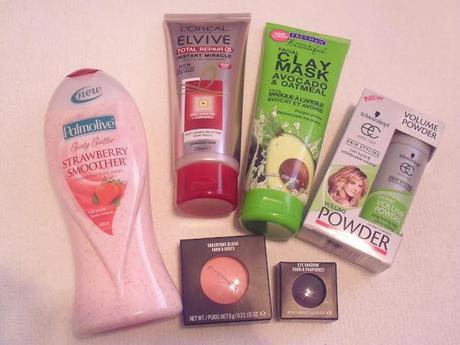 So as I haven't been out in about a week from being ill I kinda went a little bit crazy for me in buying products as im trying not to spend much while in Australia but hey you may have seen MAC its my guilty pleasure.
Palmolive Strawberry Smoother - I use the soap and glory clean on me shower gel its my all time favorite and also im using the st tropez body polish/exfoliator and i just have a feeling there going to run out soon so i decided to pick up this little two in one exfoliating body wash. Strawberry is one of my all time favorite scents along with vanilla and as it was only $4 for 400ml well cant really go wrong in kmart.
Schwartzkopf Volume Powder - Seen as though my hair is flat as a pancake and never holds a style, ever i thought this may help. I've always been interested in trying a volume powder so i choose this supposedly 24h hold and unbelievable volume and the bottle lasts up to 50 uses. We shall see ill keep you posted. ($9)
Freeman feel beautiful facial clay mask - Currently im using a clinque moisture surge mask and i feel it does hardly anything to help my skin so i decided to swap it up with a different type. However i choose this one seen as it smelt delicious and very clean. It is meant to with vitamin E, draws out excess oil and dirt, purging clogged pores, leaving your skin clean and soft. Ever since being in Australia my skin is playing up with break outs randomly even when i have been cleansing and not even wearing any make up. Lets hope this sorts it out and kicks it back into normality. ($10 for 150ml)
L'oreal Total Repair 5 - Once again i am also struggling to keep my hair in good nick as it is still not used to the climate and just dries up although i do treatments and oils regularly to try and keep my poor hair healthy. So this is just another product to add to the list hoping it does miracles. It says if your hair feels thinner, weaker, rough to touch, dull and flat. These are the signs of damaged hair. which mine is poor hair. It is meant to when used 1. restored 2. stronger 3. vitality 4. silky to touch 5. healthy shine. im hoping it work as it helps to also restore pro-keratin and resurfacing ceramine. so little product do wonders. please. ($7.99)
Mac -
Blush - Pink Swoon ($24)
Eye-shadow - Shadowy Lady (£19)
Bought at target seen as they have just recently started selling mac products. not the whole range but some.
I just had to pick up a few things.