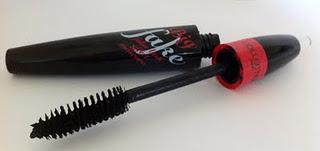 Collection 2000 Big Fake False Lash Effect Mascara
When it comes to mascara it seems that false lash effects are the new must-have. Staking their claim on the budget end of the market, Collection 2000 have launched their very own Big Fake False Lash Effect Mascara. Yeah that's right Big-Fake-False-Lash Effect Mascara, not only is the name not so catchy but when you use that many adjectives to describe your product surely you are promising something that you can't deliver?

Left eye with Big False Lash Effect Mascara
Right eye without mascara
Yes like a lot of the other mascaras on the market at the moment Collection 2000 are claiming to give the volume and length of false lashes in one neatly packaged, over ambitiously named mascara. There lies the problem with this product; it makes claims that it does not fulfill. This left me feeling disappointed, which is a shame because it isn't a bad mascara at all, it just feels inadequate when you are expecting big-fake-false lashes.
Surprise surprise, this is another mascara that doesn't deliver a false lash effect but what it does deliver is a good day- to- day mascara for a bargain price of £4.99.Big Fake False Lash Effect delivers decent lengthening effect and layers well for a bolder look. Unfortunately the mascara doesn't build volume as much as hoped but the lengthening effect does have good impact. The brush is a little on the large side for me and I found it a bit messy to apply because of this but the mascara is a good constancy and stays put once applied.In order to test just how waterproof this product is I wore it to the spa and put it through its paces with a facial, jacuzzi, swimming and sauna and amazingly it really did stay put!
Frustratingly, I feel disappointed by this product purely because it does not deliver what it claims to. Had Collection 2000 marketed this as a great lengthening mascara suitable for everyday wear and great for on the beach, this would have been a more positive review. If you are looking for a good, affordable everyday mascara buy Collection 2000's Big Fake Lash Effect Mascara. If you are looking for a False Lash Effect product splash out and treat yourself to Maxfactor's False Lash Effect Fusion.
Collection 2000 Big Fake False Lash Effect Mascara ReviewProduct
: Mascara that claims to create a false lash effect. It doesn't but it is a good day- to- day mascara.
Longevity
: Waterproof formula means that once it has been applied it stays put.
Affordable:
£4.99
Easy to use:
Yes, the brush is a little on the large side but is otherwise easy to wear and apply.
Availability:
Available on the high street and online at both Boots and Superdrug
The Verdict: 6.5/10 A good everyday mascara for a bargain £4.99. Unfortunately it doesn't deliver the false lash effect it promises.