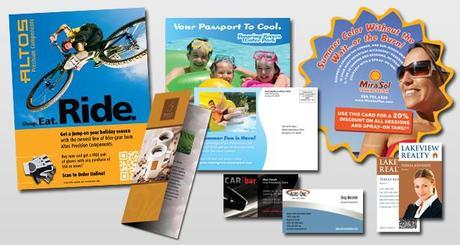 Marketing collateral is an umbrella term that refers to the collection of printed media used to make the sales effort easier and more effective. Whether you hand it out, mail it, or it is picked up from a countertop or trade show booth, collateral is meant to educate a potential customer by providing details about the products and services you sell. Collateral material should also serve to promote your company by featuring your logo and other branding elements, and include contact information to make it easy for someone to buy from you.
Generally speaking, collateral is tangible media, such as the following (although more and more companies are employing digital collateral):
Brochures: Whether a tri-fold or a fancy multi-colored catalog, a brochure can be handed out to prospective customers, used in a direct mailing, placed on a counter to be picked up or sent out when people want more information.
Business Cards: Every businessperson should have one, and it should include all contact information: your name, company name, address, telephone number, fax number, website and email address.
Newsletters and enewsletters: Newsletters help keep your company's name in your customers' minds when sent on a regular basis. Avoid the hard sell by providing relevant information so your customers look forward to reading it.
Fliers: These "one-pagers" generally have less descriptive text than brochures, but include special offers and/or promotional pricing along with a call-to-action.
Sell Sheets: Sell sheets are similar to fliers, but instead of offers, they are meant to quickly and efficiently impart facts about your product or service.
If you're going to go to the trouble of creating collateral to promote your company and its products/services, make sure each piece represents your company in as professional a manner as possible. When produced well, marketing collateral can help drive your sales. When poorly produced, it sends a negative message about your company (and often ends up in the trash).