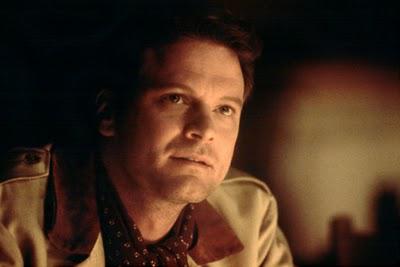 Long live King Colin the Firth.
The  first time I saw Colin Firth was in 1986 on Masterpiece Theater in a mini-series called Lost Empires. He was playing a young man in the Great War era who had joined his uncle's magic act. "The Empire" was the name of the chain of music halls they visited in various towns around England. He was sad and serious but compelling nonetheless.
Then there was A Month in the Country, again sad and serious but caught my attention in an otherwise forgetful film. 
And then Valmont, the Dangerous Liaison's story, where Colin Firth rocked the puffy shirt (and Meg Tilly's world) before Mr. Darcy.