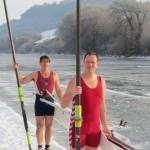 Nothing keeps the Monmouth boys off the water…
Photo by Sue Griffiths
They make 'em tough at Monmouth. We laugh in the face of the cold and let the rain run off our backs like ducks. Just look at the picture…
And yet… we're not stoopid. Even we occasionally have to nod in the direction of the dreaded health and safety. I wrote about this in the last edition of Rowing & Regatta, and I'm sure you read it word for word. But in case you didn't, here is your handy cut-out-and-keep guide to staying safe in cold weather.
Water Temperature 
3.9 – 2.6°C: Make sure you have specific safety cover per boat. Ensure the launch can rescue the whole crew; you don't want the nasty, selfish First Class passengers elbowing the poor-but-worthy Third Class people out of the way in their rush to make it into the life rafts (sorry – been watching a bit too much Titanic – but you see what I'm getting at). Consider restricting your outing in terms of time and distance on water, according to boat type and competence of rowers.
Below 2.5°C:  Do not take to the water
 Air Temperature
8 to 0°C (including wind chill):  Ensure all crew members (especially the unfortunate cox) are wearing appropriate clothing. If ever there was a time to warm up before you went on the water, this is it.
0 to -4 °C  ( including wind chill): Ensure all crew members are wearing appropriate clothing. Kids are notorious for not wearing enough layers, so make sure you nag them into wearing plenty of kit. Be aware of other factors prior to boating. Consider carefully whether you want your unfortunate cox to contract hypothermia and whether you have skinny juniors who feel the cold more than you do and should be inside doing their homework instead. Again, be sure to warm up.
Below – 5 C ( including wind chill ) Do not take to the water.
If in doubt, don't go out. Sometimes it's better to cut your losses and have an erg session instead go inside and have a hot chocolate. And above all, stay safe, lovely people.