On Friday night the fine folks over at Boots & Bourbon played host to yet another CMW Event. This time around it was a lil' more country than earlier in the week. With the line up including Petric, Domino, River Town Saints, Chris Lane and of course Cold Creek County.
The night begins with Petric out of Winnipeg. The band is formed around brothers Jason and Tom, and quickly gets the night on track with their fresh, upbeat country sound. As their first actual show in Toronto, Petric warmed everyones ears up with a great acoustic set. The brothers clearly have great chemistry performing together and wonderful harmonies. Playing through their songs Band Of Brothers, Here Goes Everything, newer song All She Wrote and catchy It Girl. Petric also added in a couple cover songs to compliment their own like Somebody Somewhere by Dallas Smith (whom they greatly admire) and Maroon 5 tune Payphone. A promising young band we'll be hearing more of for sure.
Second up is Alberta's own Domino. Kicking up the energy, plugged in and ready to go. Kent Nixon looking like a true Canadian cowboy on vocals and lead guitar, Luanne Carl on vocals and bass, Russ Carl on guitar and mandolin, and Scott McNight on drums. Playing a true rockin' country sound fit for this saloon. Songs that stood out were We Were Right, Big Blue Sky and a really cool sound to the tune Can't Kill A Ghost. Pop in their great cover of Day Drinking by Little Big Town and everyone was primed for the night ahead.
Following Domino, and 3rd on the bill was Ottawa's own River Town Saints. Now it is no secret that we here at Sound Check are big fans of RTS and have covered a handful of their shows over the last year or so. The boys had a little extra in the tank it seemed tonight. Chris Laballe just blew the doors off the Saloon when things kicked off with an amped up version of Don't Stop. It was locked and loaded from then on. These guys brought an energy to the show that really turned it up a notch. Not taking anything away from the earlier artists but you could feel the crowd was really into what RTS were dishin' out. My personal favourite of the night was the boys current single and final song of the set Cherry Bomb. The fellas in RTS know to have a good time and are a fantastic party band. This isn't a band you're really expecting a set of ballads from. More like, grab a pint and some buddies and just rock out. If you have a chance to catch the River Town Saints this summer we strongly suggest you do so. Playing some of the BIG festivals this summer such as Boots & Hearts, Cavendish & Gone Country for starters gives you ample opportunity to catch a set.
How do you follow up an outstanding set? With another crazy good set by North Carolina native Chris Lane. This was my first time catching Chris and have to say the boy knows how to sing. He brought every ounce of energy he had to the show. With his hit single Fix just slayin' it at Country Radio the fans were singing right along to that one. I was rather surprised when he broke out into an 90's / 00's boy band medley that had the ladies in the crowd eating right out of Mr. Lane's hand. Seriously the ladies loved it there was no doubt about that. Chris used the stage that he had to the best of his advantage
Then as the clock struck twelve it was time for Cold Creek County, one of Canada's hottest Country acts to take the Boots and Bourbon stage. To a packed house the boys took to a boisterous crowd wanting to hear CCC rattle the barrels at the Saloon. And rattle they did. If you haven't had a chance to catch Brendon and the boys you really are missing out. I had the opportunity to catch these boys a couple times last fall when Tim Hicks dragged their asses across Canada on his Get A Little Crazy Tour. But on this CMW performance again they had a bit more to give and it just felt as though the band was really more of a band. It seemed in pervious performances it felt more like they were still feeling each other out and not really melded together as a real band / team yet. But, now you could tell the boys were more comfortable being up on stage together. And one of the stand outs was Justin Lester the way he intereated with the audience was pretty amazing. My favourite of the night from an amazing set Till The Wheels Come Off
It was a hell of a night in Toronto that is for sure. Country music is working it's way into the veins of the city and is slowing winning 1 fan over at a time. If there were any new "Country" music fans in the audience we can pretty much guarantee they had a heck of a time and would be back for another round for some boot stompin' country music. Want to thank the fine folks at Boots and Bourbon for being the host with the most as usual. If you haven't been down to Boots & Bourbon we strongly suggest taking in some entertainment there sometime soon. And thank to CMW for having us. It was such a fantastic week of music, and hope all of our readers enjoyed them.
Corey Kelly / @CoreyKelly76
Photos - Mike Highfield / @MC_Highfield
MORE PHOTOS...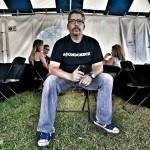 Born and raised in small ltown Ontario, Love me some Whisky & Country Music. Blogger, Photographer and Country Music Junkie.