Happy hump day! How's your week going?
This morning, while Sienna was at playgroup, I had arranged a little coffee date with my mom. I only normally see my mom when we have Sienna with us which is lovely of course, but today it was nice to chat with my mom without having to keep one eye and ear on an active little toddler. We popped to my Nan & Grandad's first as it was my Nan's birthday and then headed to a coffee shop near by. We hadn't been in there before but it was lovely!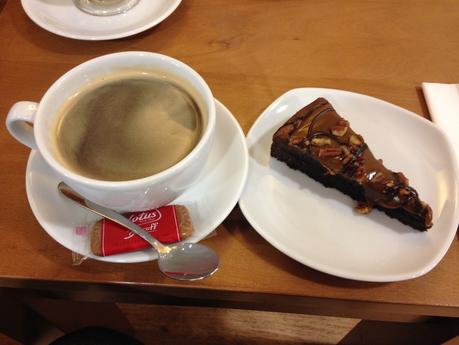 Sienna had me up since 5:30am so I had a larrrrrge black coffee and a slice of pecan caramel brownie to cheer me up. It was so yummy, totally satisfied my sweet tooth for the day! The coffee went down well as always ;) While Sienna napped after playgroup, I scouted some discounts at VouchaCodes.. the playgroup closes for the half terms so she breaks up for Easter on 27th March until 13th April. I always look for discounts for days out or food and drink as the costs can all add up over the holidays! 
For dinner, I tried Courtney's slow cooker BBQ pulled chicken. I chucked it all in the slow cooker and whacked it on high for 4/5 hours. I wasn't sure how it would turn out but it was delicious, I served it with brown rice and corn to make a quick and easy meal. This will definitely be a regular on the meal plan!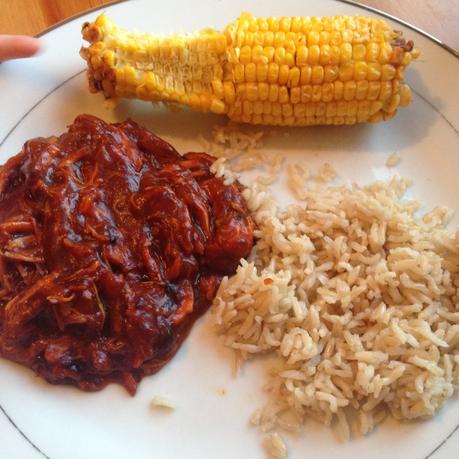 Today was a rest day in terms of workouts but yesterday was legs and thighs. I have been a big fan of Blogilates for ages but I think her recent 'Intense inner thigh challenge' is one of her best videos. It reeeeally burns, I have to stop a million times as my legs literally burn so bad. I'm going to keep doing it and hope some day I can do it the whole way through without stopping ;) 

Let me know if you give it a go and tell me how many times you had to stop! 
Want more fitness posts?
Taking rest days + the flipbelt,  Slendertone 2 week progress,
Barre workouts + the primal pantry bars
Follow me: 

BlogLovin'

 // 

Twitter

 // 

Facebook

 // 

Google+

 // 

Pinterest

 // Instagram

*This post may contain sponsored or affiliate links and PR samples.