Yeah, "coffee", the sort you smoke.
If you're hankering for a tall, frothy latte with lashings of caramel syrup and grated nutmeg, don't, whatever you do, go to a "coffee shop". In Amsterdam, coffee shops are not to be confused with cafes. Unless you want a slightly elevated surprise. Of the mind, that is.
There are about 800 coffee shops in The Netherlands and almost 300 of these are found dotted around Amsterdam city. If you do decide to dabble in "coffee", it's important to remember a few things:
1. Don't underestimate the strength of weed in Amsterdam – on average, it contains 16% of THC (the active substance) which is double the amount found in weed sold in the US or the UK.
2. Don't overdo it too quickly – remember that effects can take up to 15 minutes or 30 minutes (or an hour if you ingest) so don't get overconfident and have too much at once.
3. Don't mix with drink or other drugs – not anything goes in Amsterdam.  It's only soft drugs which have been decriminalised. Mixing drink and marijuana can have some unpleasant outcomes so try to choose one and stick to it.
4. Don't drive after weed – if you hire a car in Amsterdam, leave it at the hotel for your coffee shop adventure. Police can still stop wobbly bikers who appear under the influence, so walking / public transport is probably your best bet!
(Please note: anyone suffering from mental health problems should abstain from weed or any other recreational drugs altogether.)
Amsterdam Coffee Shops, Not to Be Confused for Tea Rooms
Just walking around the city, you will come across some fairly obvious indications. Unless you're as blind as a bat and the most unsuspecting person who takes everything literally (eg: my mum), then it's very unlikely that you'll make the faux pas of asking for an Orange Mocha Frappuccino in a stoner's bar – or even worse – asking for a bong in a pensioner's tea shop.
Here are a few coffee shops which display some pretty palpable pointers as to what they're about…..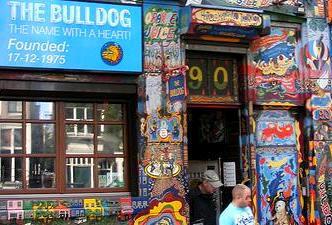 Bulldog Coffee Shop, Amsterdam
The Bulldog
Locations:
Leidseplein 17, 1017 PS Amsterdam
Oudezijds Voorburgwal 132, 1012 GH Amsterdam
The Bulldog, the first cannabis shop in the world, is world famous for its celebrity guests and even has its own hotel.
Some connoisseurs have labeled it "touristy" but first timers may feel more comfortable in one of the Bulldog chains.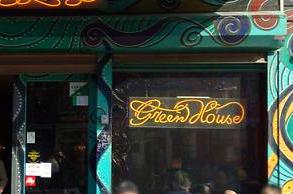 The Greenhouse, Amsterdam
The Greenhouse
Locations:
Oudezijds Voorburgwal 191, 1012 EW Amsterdam
Tolstraat 91, 1074 VG Amsterdam
Waterlooplein 345, 1011 PG Amsterdam
The Greenhouse coffee shops have proved popular with both tourists and locals, and the company has even been rated by High Times Magazine.
Happy Feelings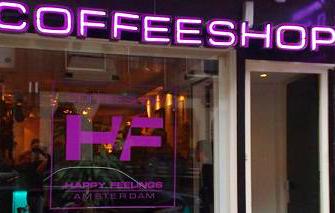 Happy Feelings, Amsterdam
Location: Kerkstraat 51, 1017 GC Amsterdam
Not quite as obvious from the outside, but the answer's in the name.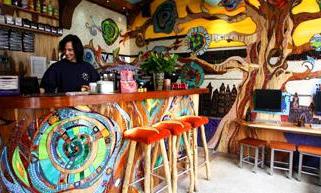 Abraxus, Amsterdam
Abraxus Coffee Shop
Locations:
Jonge Roelenstg 12 -14, 1012 PL Amsterdam
Spuistraat 51, 1012 PL Amsterdam
The interiors create a complete fantasy world inside and the backlit menu outside lets you window shop before deciding on a coffee shop. 
This is another coffee shop recommended by High Times Magazine and other happy stoners on the internet – plenty of great reviews. 
Rastababy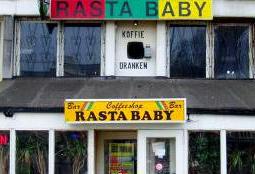 Rastababy, Amsterdam
Location: Prins Hendrikkade 6-7, 1012 TK Amsterdam
Wicker chairs, resident cats and Bob Marley makes this place a friendly, little hangout. Apparently.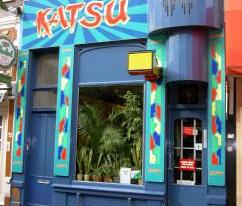 Katsu
Katsu
Location:
1e van der Helststraat 70, 1072 NZ Amsterdam
Those plants aren't for decoration.
The Smart Girl's Travel Guide does not endorse or encourage the use of drugs. This article is purely informational. But when it Rome…..