These Coffee Chocolate Chip Streusel Muffins are made with fresh Dunkin' Donuts coffee, filled with chocolate chips, and topped with a delicious streusel crumb topping!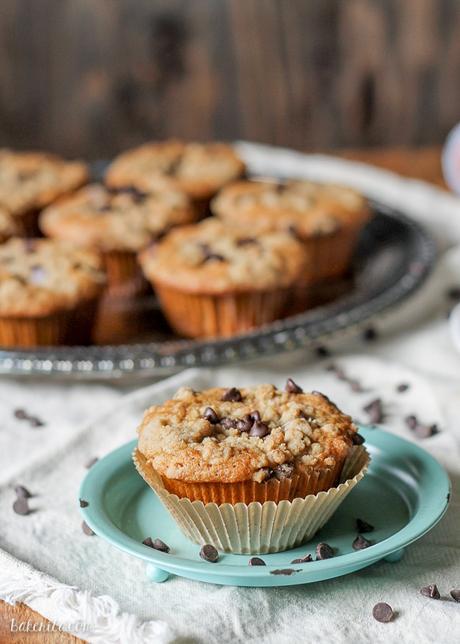 Thanks to Dunkin Donuts for sponsoring this post!
These are the breakfast muffins of my dreams, and if you're a coffee lover too, probably yours.
My days recently have needed a lot of coffee. I've just been going recently. I had finals week, and then graduation, and as you're reading this (if that's between 5/21-5/26, that is), I'm at Sasquatch music festival at the Gorge. Five long nights of concert going and shenanigans, it's bound to be a great time – but I know I'm coming back exhausted.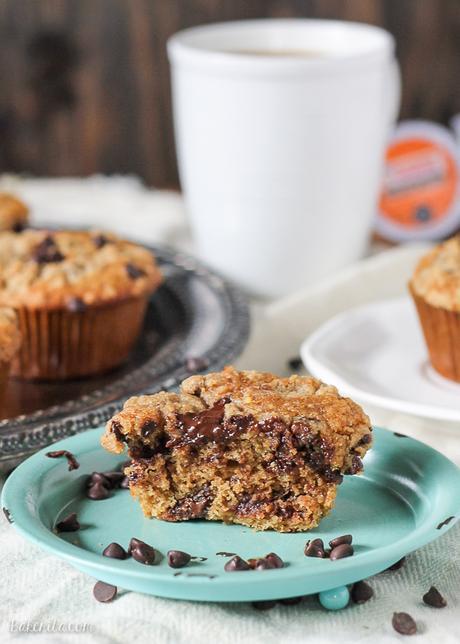 I'm also trying to find a place to live in Seattle, since my current lease is up June 1st. Yikes. Stressful, but I keep repeating…breathe in, breathe out, it'll work itself out. All else fails, I'll be living in a hotel.
All of this craziness has left me as a coffee fiend, and when I'm in need of coffee, I turn to K-Cups. My machine has been a staple in all the dorms and houses I've lived in since freshman year of college, because it just can't be beat in terms of convenience.
Sooo…when in the middle of my coffee driven craze, I got a box all five flavors of the Dunkin' Donuts® Coffee K-Cup® Pods, I was so incredibly grateful. I received Original Blend, Dunkin' Decaf, French Vanilla, Hazelnut and Dunkin' Donuts Bakery Series® Chocolate Glazed Donut flavors.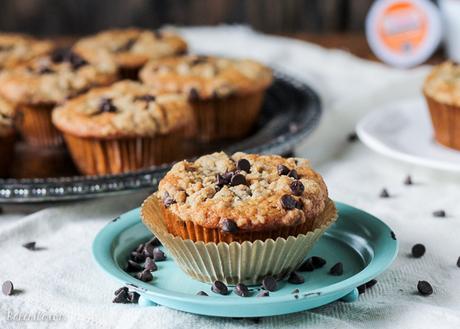 So far, I've tried the original blend, which is some darn good, strong coffee and the chocolate glazed donut coffee, which makes my kitchen smell ridiculously good as it's brewing! You can now grab these in your grocery store's coffee aisle – so convenient.
Obviously though, besides brewing lots of cups of this coffee to keep me going, I had to bake something with it. Immediately I thought of coffee cake, despite the fact that coffee cake does not have coffee in it. But…could it?
While this isn't recipe isn't for coffee cake per say, these coffee muffins did get a gorgeous streusel topping that give that crunchy, crumbly top that makes coffee cake so good.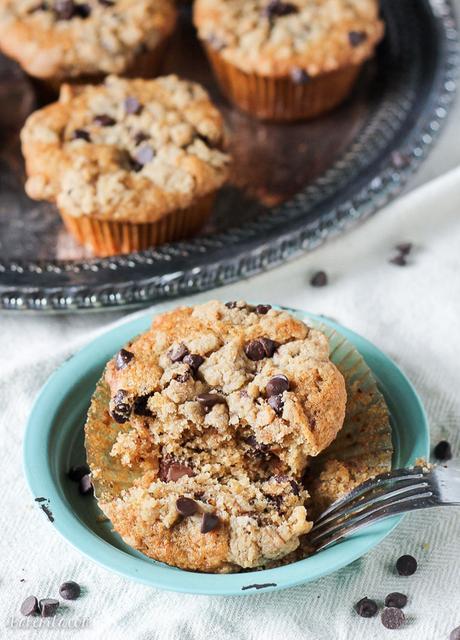 The coffee muffins themselves are tender, with a soft crumb and mellow coffee flavor that smells delicious. Chocolate chips add texture and flavor to the muffins, and I can never have enough chocolate, so I added a good cup of chocolate chips. But these muffins would be super good without the chocolate too, if that's what you're into! They coffee muffin's texture and flavor by itself could totally stand up on it's own.
These caffeine-driven treats got gobbled up super quickly, and are the perfect treat to bring to your next breakfast meeting! While it won't replace your morning cup of joe, it sure is a nice accompaniment! Enjoy :)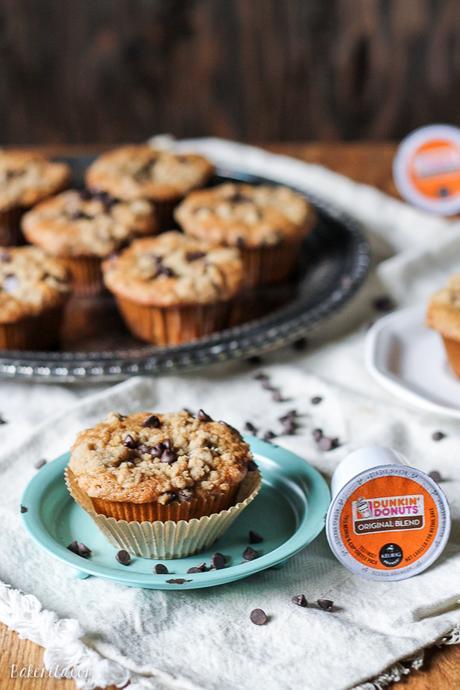 Thanks to Dunkin' Donuts® Coffee K-Cup® Pods for sponsoring this post, and thank you for supporting the brands that support Bakerita! As always, all opinions are my own.
Coffee Chocolate Chip Streusel Muffins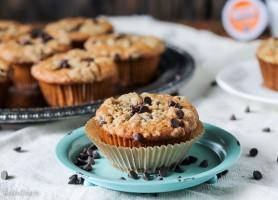 Save
Print
Author:
Rachel Conners
Serves:
12 muffins
Ingredients
1½ cups all-purpose flour
½ cup white sugar
¼ cup brown sugar
2 teaspoons baking powder
¼ teaspoon baking soda
¼ teaspoon salt
1 egg, room temperature
1 teaspoon vanilla extract
½ cup strong brewed coffee, chilled
⅓ cup canola oil
1 cup chocolate chips
For the streusel topping
¼ cup brown sugar
¼ cup flour
1 teaspoon coffee or water
2 tablespoons butter, softened
1 tablespoon mini chocolate chips
Directions
Preheat oven to 400°F. Grease 12 muffin cups or line with muffin liners.
Combine flour, brown sugar, white sugar, baking powder, baking soda, and salt. Add egg, vanilla extract, coffee, and canola oil. Stir until just moistened. Fold in chocolate chips. Divide the batter between the muffin tins, they will be about ¾ full.
In a separate bowl, mix together all of the ingredients for the crumble topping until crumbly. Sprinkle evenly among the muffins.
Bake for 20 to 25 minutes in the preheated oven, or until a toothpick comes out clean.
3.3.3070  


Hungry for more? Check out some of my similar recipes!
Latte Cake with Boiled Fudge Frosting

Pumpkin Crumb Cake

Chocolate Malt Mocha Crunch Ice Cream

Mocha Raspberry Cake

Browned Butter Banana Cake with Chocolate Ganache

Banana Chocolate Chip Muffins (GF, Vegan)