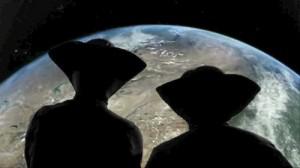 Space love and earth love collide!
11/14/11- by Natasia Langfelder
MoMA's totally queering it up next weekend and screening the romantic comedy "Codependent Lesbian Space Alien Seeks Same." If you're looking for a great gay first date movie, this is probably going to be your only chance for awhile. Most queer themed movies involve one of the ladies either dying or going back to men, which is awful for date night. So you might want to jump on the opportunity to see this one. If you already have a girlfriend, just do your first date over.
Back in June I had the pleasure of interviewing writer/director Madeleine Olnek and actresses Lisa Haas and Jackie Monahan. Olnek wrote and directed the film and Lisa Haas stars as the hapless humanoid that falls in love with a lesbian alien that visits earth and Jackie Monahan plays a partying playa alien. Watch the interview here:

You have two chances to see it at MoMA New Yorkers:
Saturday, November 19 at 6:00 pm: Codependent Lesbian Space Alien
Seeks Same @ The Celeste Bartos Theater (T3)
Monday, November 21 at 8:15 pm: Codependent Lesbian Space Alien Seeks
Same @ The Roy & Niuta Titus Theater 2 (T2)
For more information on when/where you can see the film visit:
www.codependentlesbianspacealienseekssame.com