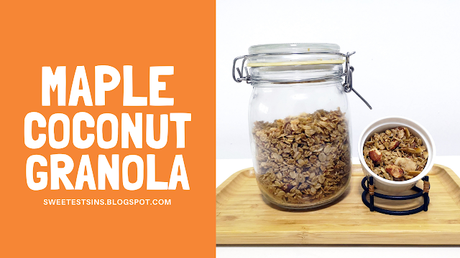 I love granola, so much so that I can have it as breakfast with milk or as a mid-day snack with greek yogurt. Up till now, I always had store-bought granola. Since I had the ingredients at home, I thought it would be great to try my hand at making my own granola!
Read on and
watch the video
to find out
how to make granola at home
.
Coconut maple cinnamon granola recipe
Ingredients: 
3 1/2 cups rolled oats 3/4 cup chopped almonds 1/2 cup coconut flakes 1 tsp cinnamon powder 1/4 tsp salt 1/2 cup coconut oil
Directions:
1) Combine rolled oats, cinnamon powder, coconut flakes, salt and chopped almonds.2) Mix evenly. 3) Microwave maple syrup and coconut oil for 30s and add to oats, coconut flakes, almond mixture. 4) Mix evenly. 5) Spread mixture evenly onto baking pan and bake for 20 mins at 180°C. Check and stir every now and then so that it doesn't get burnt. 
Have you tried making granola at home? If yes, what are some of your favorite granola recipes? If no, would you try making granola at home after seeing how I fared for my first attempt at homemade granola? 
--------------------
CONNECT WITH
--------------------
SWEETESTSINS