The Modern Cocktail is a classic cocktail that's ridiculously easy to manipulate to fit into any cocktail scenario. Smoky, funky, sweet, spicy, this cocktail can do it all by just changing your selection of its core spirits: Scotch and Rum. Two spirits that have a wide range of flavor profiles to pick from, which results in more combinations than I can imagine.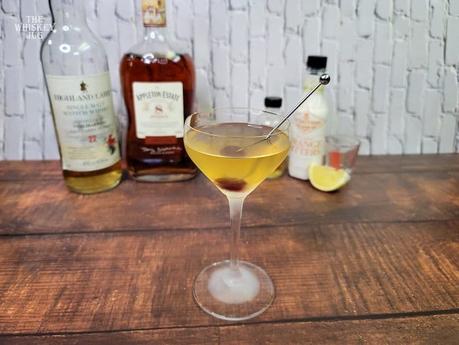 Want to make a smoky and funky after-dinner drink? Switch your Scotch to something from Islay and use something like a Hampden for your rum. Want to make it sweet and spicy? Use an un-peated, sherried, Scotch and some form of a spiced rum. The combinations of Scotch profiles + Rum profiles make this a drink you can endlessly experiment with and truly tailor to your tastes. And that's before you start messing with the ratios.
The Scotch component is only 1.5 oz and most, standard, drinks will use up to 2oz of hard alcohol so there's ample room to increase your rum amount if you want to highlight the rum more. You can shift it to 1 and 1 or even flip the ratios completely. Though, admittedly, I didn't have much success when flipping to a rum-centric cocktail. But that's all about balance.
I'm sure there are some great combos that can be created by switching to rum-centric, I just didn't hit on a winner in my experiments. Regardless, the point is, there is a lot of room for experimentation not just within your actual choice of Scotch and Rum, but the amounts as well. The Modern Cocktail is a very versatile cocktail and if you're a fan of Scotch and Rum, you'll be hard-pressed to find a simple cocktail that gives you more room to play around in and explore.
If you read this and make one, share your thoughts in the comments below.
Cheers!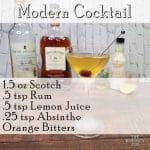 Print
Cocktail Recipe: Modern Cocktail
An absurdly versatile cocktail that can take on a vastly different profile just with the selection of your Scotch or Rum.
Course
Drinks
Cuisine
Cocktail
Keyword
Absinthe, Bitters, Lemon, Rum, Scotch
Total Time
5
minutes
Equipment
Mixing glass
Jigger
Cocktail Glass
Ice
Bar spoon
Strainer
Ingredients
1.5

oz

Scotch

.5

tsp

Rum

.5

tsp

Lemon Juice

.25

tsp

Anisette (Absinthe or Chartreuse works too)

2-3

Dashes

Orange Bitters

1

Cherry (garnish)
Instructions
Put cocktail glass in freezer

Add ice to mixing glass

Add all ingredients except cherry

Stir till cold and properly diluted (20-30 seconds)

Remove cocktail glass from freezer

Strain cocktail into glass

Garnish with cherry (optional)

Enjoy!
Video
View this post on Instagram

A post shared by The Whiskey Jug (@thewhiskeyjug)