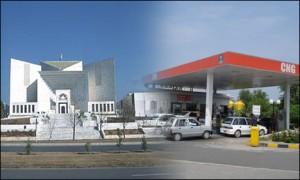 CNG prices slashed by Rs 30 after SC order
After Supreme Court's order to review pricing mechanism of Compressed Natural Gas, the government has slashed the CNG prices upto Rs 30.90 kilogram.
Following the decision the CNG price in Region I (Potohar, Khyber Pakhtunkhwa, and Balochistan) has been dropped from Rs 92.54 to Rs 61.64 per/kg. while after witnessing reduction of Rs 30.38 in CNG price in Region II ( Sindh, Punjab,and its areas excluding Potohar) stands at 54.16 per/kg.
According the notification issued by Oil and Gas regulation Authority (OGRA), the new prices will take effect from today (Thursday).
In its interim order earlier on Thursday, the Supreme Court had declared weekly revision of CNG prices and its linking with the petroleum prices against the law' and ordered to announce the new prices before November 1.
Citizens, traders and industrialists have welcomed the significant reduction in CNG prices.