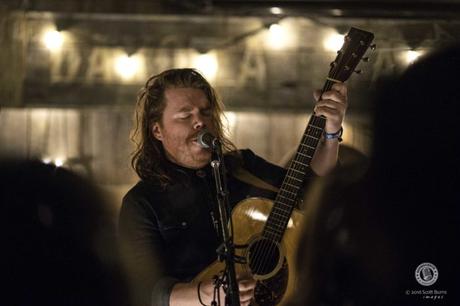 Canadian Music Week 2016 is in full swing in Toronto. And man it's pretty much all night, every night, at every venue in the T-dot. While Corey was over at the Phoenix, I hit up the Dakota Tavern to capture the action and here is my recap of what went down.
What a great club - awesome intimate feel with the low, dimly lit stage and close proximity to patrons. And the joint was pretty much packed, awesome for a Tuesday night. Also packed was the Don Valley Parkway, so I was late arriving to see Anna Rose who was scheduled to start off the night. We'll have to catch you next time!
I did get there for remainder of the lineup, and was treated to a nice mix of musical styles and geographically speaking, we had artists from across the country. First up for me was this dynamic duo Twin Peaks (well trio with their accompanying guitarist). Lindsay Pratt and Naomi Shore with Darcy Windover. These girls travelled 4200 kms in 3 days from Fort St. John, BC to get to CMW, and I'm glad they made the trip. They have a truly original sound and great sense of humour too. They drew quite a few laughs with their wit and observations and I'd even say their a bit sassy too. This is also reflected in their lyrics as well, so quite a cool twist on things. Loved their set, great vocals. And heck, ukeleles? Damn right.
Next up was Northern Roads, an alternative folk band. What a cool sound, and great guitar work and awesome vibe. They brought it. These local boys (Scarborough to be exact - yes, alternative folk band from Scarborough) got things really hopping. They didn't stop for the entire set, and Connor Allen (lead singer) wouldn't let the crowd stop either. They certainly had there own posse follow them downtown from the 'burbs and delivered a great show. Being a local act has it's advantages. Will definitely be looking for them again! Young, bright, energetic and they look super cool and confident on stage. Just a really fun act.
From the folk kinda thing, we took a left turn and a got little down east style when Willie Stratton took the stage. With a guitar, a pedal steel, and an upright bass, this trio had a unique twist, and a real kick you in the ass old country twang to their sound. And when is the last time you saw a band in a club that yodelled? They came out hard and kept it going through their time slot in tonight's showcase. Willie managed to snap a guitar string in the middle of one song, but kept on rolling. Pretty cool work from these Halifax musicians, and by the members of the crowd who took to the floor with a little country dancing of their own, you can bet they were hitting the right notes.
Making a departure from the folk/western/country thing, we got treated to The Royal Foundry, providing a more electronic pop sound and some super dynamic stage presence. This brought the temperatures and the vibe up a few notches. And get this, they had this crazy good cello player by the name of Robbie Szabo. I found this feature to be very cool. I love it when you get a little of the unexpected. Jared and Bethany Salte hammered out the keys, guitars and vocals while drummer Jeremy Dehek kept time. They really got the crowd's attention and were so well received. I loved the energy from this band. Just another great set in the night of music.
And to close out the evening, JJ Shiplett, fresh off the Johnny Reid cross-Canada tour, came on and pretty much melted the place. I had the pleasure of meeting JJ back in March when Sound Check Entertainment interviewed him and we also did a Mason Jar session (which he killed!). This Calgary based singer has one of the most unique voices in the business, and his music tells great stories. The band is super tight, and they blew the doors off the Dakota on this night. Of note, the song Higher Ground, written after the big floods in Calgary was a favourite of mine and everyone in attendance. Shiplett is a real down to earth guy and an amazing talent who has so much promise and I will be looking for great things to happen for him. JJ will be performing at Harvest Picnic at Christie Lake in Dundas, Ontario in August. I would put him down as a must-see!
Scott Burns / Scott Burns Images