So the fellas of Cold Creek County are set to hit the stage at CMT Music Fest. We had a chance to ask a few questions about festival and pre-show rituals. Check it out below.
Tell us a bit about your first music festival experience, either as a performer or as a fan.
One of the first music festivals we were able to experience as a group was the Havelock jamboree. It was one of the first times as a group we got to open for a big name like Alan Jackson, and also setup tents and camp out for the weekend. It was an amazing weekend celebrating music and meeting other die hard country music fans. We can't wait for festival season this year!
What is your best piece of advice for a first time festival attendee?
Bring friends, drinks, a sleeping bag, and clean underwear!
What can someone who's never seen you play before expect from your live performance?
Our favourite thing, hands down, is performing! So if you come see us, expect to see a very high energy show! We do our best to give our fans the most entertaining show possible.
Do you have any pre-show rituals?
We have a little ritual we like to call "beer o'clock". One beer, consumed one hour before the show. It's absolutely mandatory!
What does being a part of the inaugural CMT Music Fest mean to you?
Too be able to perform on the same stage as all the other big acts playing there is truly an honour. We are all small town guys that never thought we'd have the opportunity to play a show like that, so we do not take it for granted.
Who/What are you most looking forward to seeing at CMT Music Fest?
We can't wait to sit side stage and get to see pros like Eric Church and Zac Brown Band! Exposure to professionals like those guys is priceless for a young band like us.
What has been your most memorable festival experience?
Getting to watch Keith Urban at Rock The Park in London Ontario was one of the coolest experiences for us.
Do you have any advice for someone who might be playing a festival for the first time?
Stay and watch all the bands. There's nothing that makes you better than watching your peers and the professionals that play on a higher level than you.
Does your set list change in a festival setting?
Our set list is always changing depending on the show, and we always leave room for spontaneity in a festival environment.
Name three artists that would play "your" music festival if you could book anyone in the world.
Blake Shelton, FGL, and Zac Brown Band.
We wanna thank the fellas for taking the time to answer a few questions. Be sure to check them out at CMT Music Festival taking place in Kitchener, Ontario July 8 & 9.
Corey Kelly / @CoreyKelly76
MORE PHOTOS: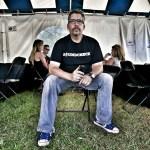 Born and raised in small ltown Ontario, Love me some Whisky & Country Music. Blogger, Photographer and Country Music Junkie.