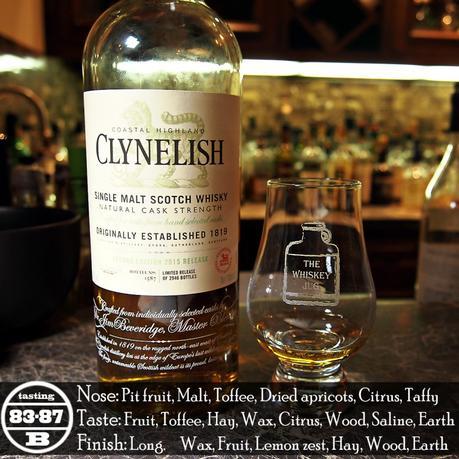 Clynelish Second Release is the 2015 Diageo Special Releases Clynelish NAS concoction created by Johnny Walker's master blender, the aptly named Mr. Jim Beveridge, using a combination of different Clynelish casks. Some were first fill ex-­bourbon American oak barrels, some were rejuvenated American hogsheads, some were refill American hogsheads, some were ex­-Sherry and some were refill European oak butts. Though what stood out the most to me was the fact that the youngest whisky is 15 years which effectively makes this only 1 year older than the OB; I believe this is the reason for making it a NAS release.
Releases like this only further prove the skepticism, criticism and cynicism from whisky lovers of the NAS trend. The feeling that we're getting hornswoggled by the the distiller into buying something "special" when in all likeliness it's just a bunch of young whisky with a dash of "rare old casks". Which isn't to say that younger Clynelish can't be tasty, we definitely proved that it can be in Malt Nuts when we did a 14 years and under Clynelish tasting where nothing tasted broke $100.
I think you see where I'm going with that point; I'm just glad I got to try this at a LAWS meeting and I'm not writing this from the perspective of someone who spent nearly a grand for what amounts to a 15 year Clynelish.
Clynelish Second Release Info
Region: Highland, Scotland
Distiller: Clynelish
Mashbill: 100% Malted Barley
Cask: ex-Bourbon, ex-sherry, American hogsheads and European oak butts
Age: NAS (Box says 15 years is youngest whisky in it)
ABV: 56.1%
Cask Strength | Natural Color
Bottles: 2,946
Price: $900
Clynelish Second Release Review
EYE
Light gold
NOSE
Pit fruit, malt, toffee, dried apricots, citrus and a taffy sweetness with a light waxy and minerally alkaline character floating on top. Water brings the waxiness up even higher.
PALATE
Fruit, toffee, hay, wax and citrus followed by a touch of wood, saline and earthiness. Pretty decent in overall profile, but lacking in complexity and all water seems to do is bring out more waxiness.
FINISH
Long and waxy with notes of fruit, lemon zest, hay and a woody earthiness.
BALANCE, BODY & FEEL
Ok balance with the waxiness getting a bit much at times, medium body and a waxy feel to go along with the waxy nose and palate.
OVERALL
This Clynelish Second Release is a waxy little bugger. At full CS it's not overpoweringly waxy, but if you add some water that waxy character really kicks up and sits on par with the fruit notes. After adding water and letting it sit for a while a light smokiness began creeping into the nose which combined with the wax, fruit and sweet notess and made me think of a freshly blown out sweet smelling candle.
All-in-all the Clynelish Second Release is a MOTR whisky that, for all intents and purposes, is a decent sipping whisky. It's not the best Clynelish I've ever had, that honor goes to a Clynelish 10 years – G&M Reserve bottled in 2010 for Binny's ($56), but if I were able to come home and have a glass of this at the end of a day I wouldn't be upset… unless I paid $900 for it that is. Then I'd be pissed off every time I saw it sitting on the shelf.
SCORE: 83-87/100 (B, not consumed at home)