This is the second and Concluding part on Cloud Computing. In this part I am going to talk about Architecture and the Issues on Cloud Computing. In previous part we discussed Introduction, History, Deployment ways or types of Cloud. This edition we are going further ahead within this topic.
Cloud Computing is an umbrella term used to describe the use of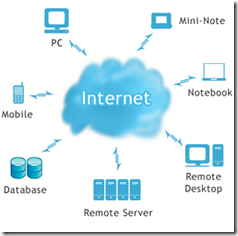 computing services that are hosted on a network (typically the internet) and used by the PCs (or other devices) without specifying specific servers or systems.
The main USP of Cloud Computing is the increase in speed and reliability of the internet today. A simple example of cloud computing is webmail. User can access their webmail from anywhere in  the world hence webmail providers maintain and upgrade according to the pull traffic generated by the customers accessing mails. The mail is retrieved as per the customers demand.
Inter Cloud:-
The Intercloud is an interconnected global "cloud of clouds" and an extension of the Internet "network of networks" on which it is based.
Cloud Engineering
Cloud engineering is the application of engineering disciplines to cloud computing. It brings a systematic approach to the high-level concerns of commercialisation, standardisation, and governance in conceiving, developing, operating and maintaining cloud computing systems. It is a multidisciplinary method encompassing contributions from diverse areas such as systems, software, web, performance, information, security, platform, risk, and quality engineering.

Privacy

The cloud model has been criticised by privacy supporters as it eases the companies hosting the cloud services control to monitor at will, lawfully or unlawfully, the data communicated between user and the host company. Instances such as the secret NSA program, working with AT&T, and Verizon, which recorded over 10 million phone calls between American citizens, causes uncertainty among privacy Supporters.
Using cloud service provider (CSP) complicates data privacy because of virtualization in cloud processing (virtual machines) and cloud storage. This means that CSP operations, customer or tenant data may not remain on the same system, data center or even within same provider's cloud. This can lead to legal concerns over jurisdiction. Cloud computing poses privacy concerns because the service provider may access the data that is on the cloud at any point in time. They could accidentally or deliberately alter or even delete information.


Tele-Columnist!