Cloud computing is a service based on different software. Now-a-days, we know that the importance given to internet is increased. This usage has been extensive both at home and organizations. However, it might require a modem to have access over the internet. Accessing internet with the help of modem is considered to be cost-consuming, particularly, in case of organizations.
This is because they need to buy modem for everyone, which incurs more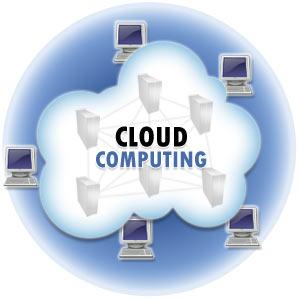 expense to the organization. However, cloud computing has offered a solution to the people.
Cloud computing is a collection of web application, websites, blogs, and so on, through which the person can access anything across the internet. With the help of this cloud computing license, any employee in the organization can access the internet and files.
Features:
Pay for what you use: In cloud computing, you can pay for the extent that you have used. It charges only for the time you used the service. It is said to be a service providing software.
Independence of Device and Location: With the help of cloud computing, you can use the service from anywhere with any device. It is not that you can use this only in computers. You can use this service even on Mobile phones that have the facility of cloud computing such as Android, iPhone, and so on. So, it provides the access to the user from any place with any sort of device that supports cloud computing.
Easy to Maintain: Cloud computing is easy to maintain. This is considered to be a centralized service, since any person in the organization can make use of this. It does not need to be installed in each and every computer.
Reliability: Cloud computing is more reliable when compared to the other services. The reason is that there are many sites offering the service. Hence, if anyone of them fails, the others take in charge and work.
Multi-tenancy: This means that it does not require any additional resources such as electricity, modem, and so on. As a result, the number of individuals can share the resource at the same time. There is no consumption of electricity and hence, no need to switch on or off whenever needed or not needed respectively.
Advantages:
Cloud computing is more flexible to use. The staff can access the files and data even if they are not at office. They can access the information even at home. Also, they can access with the help of smart phones.
Cloud computing performance is quick and accurate. You can mail and access the information. You can also download and upload files.
Cloud computing is comparatively cheaper than the other services. It does not require any expensive software.
You can store more data with the help of cloud computing. However, to have more data storage you need to pay more fees.
Disadvantages:
Sometimes, there may be a connectivity problem. Due to this, the user may not access the information. However, if it is wireless, the problem can be avoided.
There may be a failure of peripheral devices in cloud computing. This may not happen all the time, but occasionally, it may happen with certain printers, and other hardware devices.
There may be hard drive issues in cloud computing. This may arise due to the absence of hard drive devices.
Author Bio: I am Susan Hannan from Exams Key; it gives 100% 4A0-100 Test. Let's take benefit of 4A0-103 Test material efficiently and get guaranteed success. Check out free demo of all certifications Exam.